BERLIN (Sputnik) — Steinmeier added that Berlin should engage in a constructive dialogue with Moscow while defending European values.
"My proposal that I put forward last week is to consider a possibility of step-by-step lifting of sanctions if there is a concrete progress [in Minsk accords implementation," Steinmeier said at a German-Russian forum in Berlin.
The United States, the European Union and some of their allies have imposed several rounds of sanctions targeting key sectors of the Russian economy, as well as a number of individuals and entities, over Crimea's reunification with Russia and accusations of Moscow's alleged interference in the Ukrainian conflict.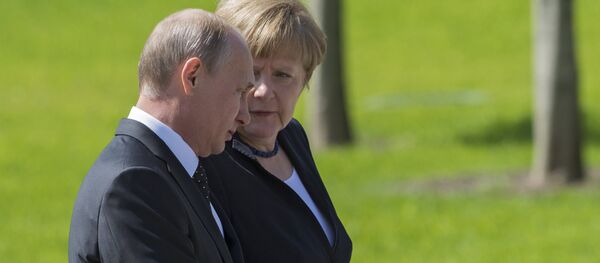 The latest round of Western punitive measures against Russia is up for extension among EU members before the July 31 expiration deadline.
Russia has repeatedly refuted the allegations, stating that Moscow does not take part in the Ukrainian conflict and warning that the Western sanctions are counterproductive and undermine global stability. In response to the restrictive measures, Russia has imposed a food embargo on some products originating in countries that have targeted it with sanctions.