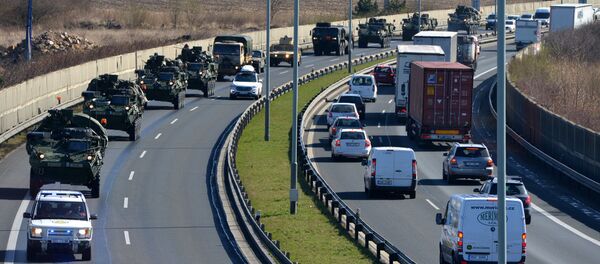 Dressed in his parade uniform, Lt. Martin Zapletal stood in front of the convoy's leading Humvee armored car and pulled down his pants before being detained by police. Martin Zapletal has been charged with organizing mass riots – a crime punishable by up to three years in jail.
​Radio Sputnik discussed the incident with Lt. Colonel Ivan Kratochvíl, a member of the "Retired Czech Soldiers Against War" movement.
"[During his stint in Yugoslavia] Lieutenant Martin Zapletal used to spend a lot of time with his British and American colleagues. Initially he was very enthusiastic about the mission, which he believed was meant to enforce law and order and protect the local population. But soon he realized that he was part of an occupation force," Lt. Colonel Ivan Kratochvíl said.
© Photo : Jan Szkibik
Detention of Martina Zapletala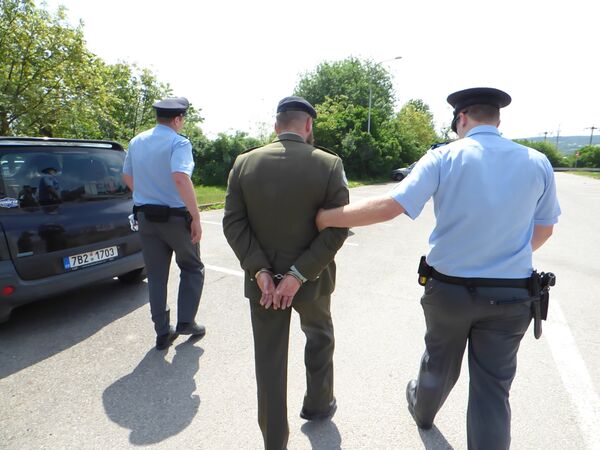 Detention of Martina Zapletala
"Before this US military convoy arrived we were told how important it was for us to have American troops in our country. Some of us disagreed but, since we have no civilized means of getting our opinion across to the authorities, Lieutenant Zapletal opted for what we think was not necessarily the best form of protest. Putting on his dress uniform he stood in front of the leading vehicle, turned around and… pulled down his pants, forcing the convoy to stop."
"They arrested him right away and took him to the local police station. If we had a normal legal system he would have gotten away with a fine, but it looks like they want to make him a political prisoner and put him in the slammer on charges of organizing mass riots."
"We have found him a lawyer and we are now launching a media campaign in his defense. Look, if all these people taking part in gay parades can freely walk around Prague with their naked bums, if we so actively rooted for Pussy Riot, putting someone in jail for three years just for pulling down his pants is an outrageous example of double standards! We are now trying to make them drop the charges," Ivan Kratochvíl said in colclusion.
A US military convoy entered the territory of the Czech Republic on Friday to participate in the Saber Strike-2016 exercises in the Baltic states.
© Photo : Jan Szkibik
Vyskov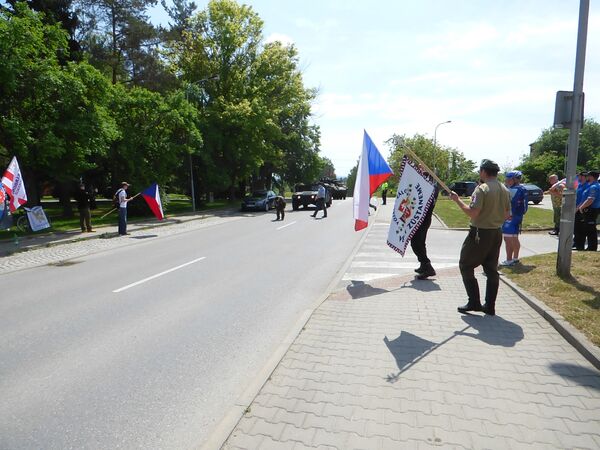 Vyskov
Saber Strike is a US-Europe set of cooperative military training drills conducted annually since 2010.
Participating nations this year include Estonia, Latvia, and Lithuania, as well as Denmark, Finland, France, Germany, Luxembourg, Norway, Poland, Slovenia, the United Kingdom and the United States.