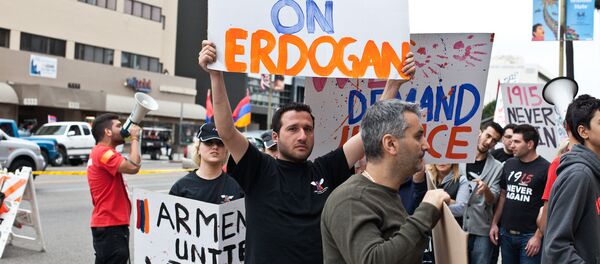 ANKARA (Sputnik) — Bundestag is about to debate the recognition of the 1915 killings of Armenians on the territories controlled by the Ottoman Empire as genocide. On May 20, German lawmakers proposed a resolution condemning the mass killings of Armenians. The parliamentary vote is scheduled for June 2.
Erdogan expressed hope that the Bundestag would demonstrate common sense regarding the resolution, according to a source in the Turkish presidential administration, as quoted by the NTV channel. Erdogan and Merkel also agreed to continue the negotiations on introducing visa free regime for Turkey.
On Monday, Turkish Deputy Prime Minister Numan Kurtulmus voiced doubts the the German parliament would adopt the resolution.
Turkey has repeatedly denied accusations of committing mass murder of Armenians, claiming that the victims of the 1915 tragedy were both Turks and Armenians. Armenia insists on the recognition of the Armenian genocide by the Ottoman Empire by the international community. The Armenian genocide has already been recognized by Russia and numerous EU countries, as well as the European Parliament.