MOSCOW (Sputnik) — On May 19, the heads of the Democratic Party, Japanese Communist Party, the Social Democratic Party and the People's Life Party agreed to consider submitting a no-confidence motion against the government over a scheduled consumption tax hike from 8 percent to 10 percent.
Party leaders met again on Monday, deciding to back no-confidence motion action as well as demanding Abe to account for the state of Japan's economy in parliament, The Nikkei newspaper reported.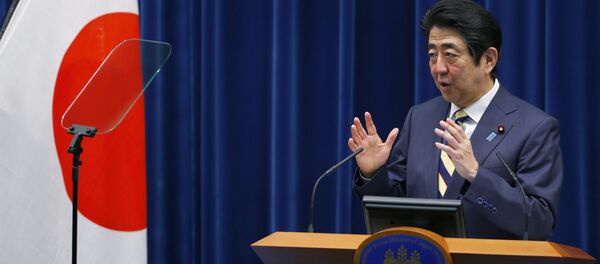 19 February 2016, 11:37 GMT
Opposition leaders accused Abe of failed economic policies, causing the standard of life to fall and aggravating poverty and inequality, according to the publication. The opposition also cited controversial defense policy legislation and the lack of transparency in the ongoing Trans-Pacific Partnership trade agreement talks as grounds for government resignation, the newspaper added.
New defense laws proposed by Abe's cabinet and passed by the ruling Liberal Democratic Party (LDP) in September have enabled the country to deploy troops overseas for the first time since World War II and triggered an opposition attempt to make the government resign. Abe survived the no-confidence vote.
In 2012, Abe announced measures to halt economic stagnation, including structural reforms, monetary easing and fiscal stimulus. The plan, dubbed Abenomics, was introduced after Abe's election in December 2013. It has been described as a failure by the opposition.