MOSCOW(Sputnik) — Israel is ready to sign the peace treaty with its neighboring countries, including Palestine and Saudi Arabia, Israeli Ambassador to Moscow Zvi Heifetz said Wednesday.
"We signed peace treaties with Egypt and Jordan. We are ready to sign peace treaties with all our neighbors, including the closest [neighbor] to us — Palestine. We have no reasons to avoid signing the international treaty with Saudi Arabia and other states. We would be glad for that," Heifetz told the Rossiya-24 television channel.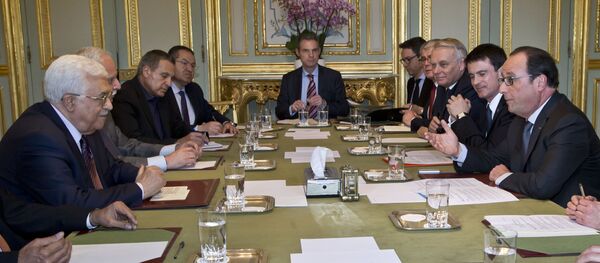 Palestinians seek diplomatic recognition for their independent state on the territories of the West Bank, including East Jerusalem, which is partially occupied by Israel, and the Gaza Strip. Israel has been building settlements on the occupied territories despite objection from the United Nations.
In April, French Foreign Minister Jean-Marc Ayrault announced that the ministers of 20 countries would take part in a meeting in Paris to relaunch the Israeli-Palestinian peace process. Neither Israeli nor Palestinian officials will be attending the event scheduled for June 3.