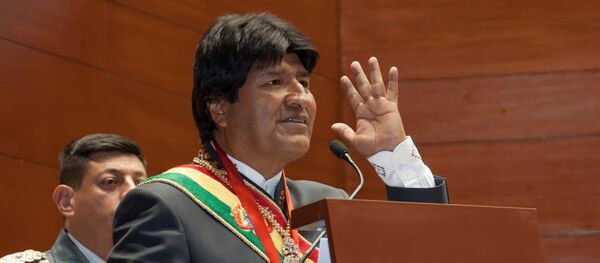 MOSCOW (Sputnik)
–
Russia and China are prepared to invest in the Bolivian economy and it demonstrates stability, Bolivian President Evo Morales told Sputnik in an interview.
"Now China and Russia know that we have stability in our economy and they want to invest, while the United States are standing against our brothers, hampering them, asking questions, keeping watch over the investments from China and Russia," Morales said.
The president pointed out that Russia and China never imposed conditions for their investments, as opposed to the United States that offered loans in exchange for privatization of Bolivian companies and natural resources.
Morales noted that Bolivia rejected the US proposal and chose nationalization of economy as a development model.
"For me nationalization is a synonym to economic liberation… That is our model. Now we are not subject to setting conditions and blackmailing. I repeat the situation with investments has become better," he said.
The president added that Bolivia was free from "this dominion mentality" and expected to gain more than $8 billion in investments this year.
Morales also said the country was ready to welcome Russian investments, loans and technologies.