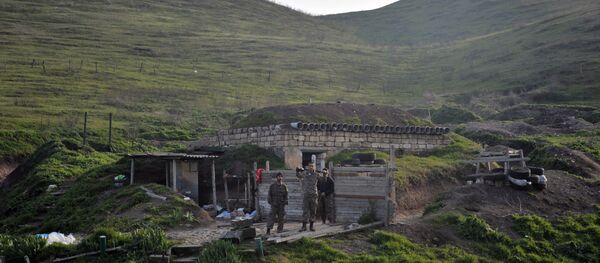 MOSCOW (Sputnik)
–
The issue of Nagorno-Karabakh will be raised by the Azerbaijani delegation at the July 1-5 Organization for Security and Co-operation in Europe Parliamentary Assembly's (OSCE PA) session, an Azerbaijani parliament vice-speaker said on Saturday.
"Of course, the Nagorno-Karabakh conflict is one of the issues on the agenda, it will definitely be raised by our side [Azerbaijan] during the session," Bahar Muradova, who would head the national delegation to the OSCE PA, was quoted by the Trend news agency as saying.
She also recalled that OSCE PA Special Representative Kristian Vigenin had recently visited the conflicting region, and was likely to provide the relevant information at the upcoming session.
Armenia and Azerbaijan have been engaged in a dispute over Nagorno-Karabakh since 1988, when the Armenian-dominated autonomous region left the Azerbaijan Soviet Socialist Republic and proclaimed independence after the Soviet Union collapsed in 1991. This move triggered a war that lasted until a Russia-brokered ceasefire was signed in 1994.
The violence in the region escalated on April 2. Baku and Yerevan have accused each other of provoking hostilities that led to multiple deaths on each side. Following five days of clashes, the sides agreed to a ceasefire deal, but reports of truce violations continued to emerge.
In mid-May, Azerbaijani and Armenian leaders met with the foreign ministers of the countries making up the OSCE Minsk Group, set up to promote a peaceful solution to the Karabakh conflict, in the Austrian capital for the first time since the conflict's recent escalation. Shortly following, Armenian Foreign Minister Edward Nalbandian said that the OSCE Minsk Group is the only recognized format of talks on the Karabakh conflict settlement.