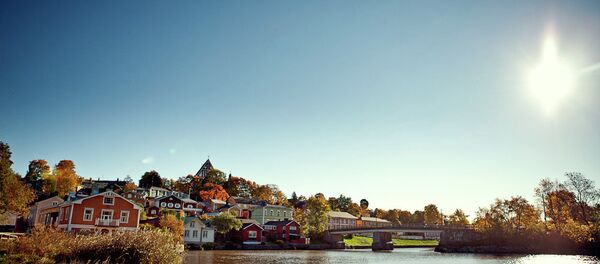 MOSCOW (Sputnik) – Russia and Finland manage to retain constructive relations despite the negative political backdrop of the Russia-EU ties, Russian Foreign Ministry spokeswoman Maria Zakharova told Sputnik in an interview.
"Even though the political backdrop and the European Union's policies in the context of the events in Ukraine, which Finland supports, do affect bilateral relations and practical cooperation, it can be stated that the… potential of neighborliness allowed Russia and Finland's relations to maintain their constructive, pragmatic and non-confrontational nature," Zakharova said ahead of the June 6 Moscow visit of Finnish Foreign Minister Timo Soini.
She reminded that Moscow and Helsinki worked together in the United Nations, international organizations and regional formats in Northern Europe and the Arctic.
Moscow's relations with the West deteriorated in 2014 over the Ukrainian crisis, when the European Union along with the United States and some other countries imposed several rounds of sanctions against Russia, accusing it of meddling in Ukrainian internal affairs, a claim which Moscow has repeatedly denied.