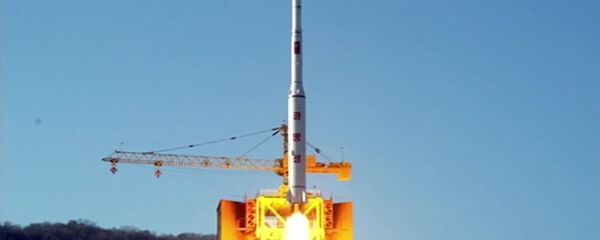 TOKYO (Sputnik) — US Secretary of Defense Ashton Carter said Saturday that the forthcoming joint ballistic missile defense drills between Washington, Tokyo and Seoul will be held in order to improve coordination against Pyongyang's "provocations".
Earlier in the year, it was announced that the United States, Japan and South Korea planned to hold joint missile defense exercises on the sidelines of the scheduled Rim of the Pacific (RIMPAC) exercises in June and July.
"For instance, the U.S.-Japan-Republic of Korea trilateral partnership helps us coordinate responses to North Korean provocations. And I'm pleased to announce that the United States, Japan, and the Republic of Korea will conduct a trilateral ballistic missile warning exercise later this month," Carter said at Singapore's Shangri-La Dialogue conference, as quoted by The Straits Times newspaper.
Tensions on the Korean Peninsula escalated after North Korea successfully carried out a hydrogen bomb test in early January and put a satellite into orbit a month later, violating UN Security Council resolutions and triggering condemnation from the international community.