The militants are also shelling the Syrian Army's positions in Handrat, according to the center's spokesman.
"Al-Nusra Front terrorists and Ahrar ash-Sham militants are continuing their attacks in the northern part of Aleppo. The militants place Kurdish Sheikh Maqsood neighborhood of Aleppo and positions of government forces near the settlement of Handrat under fire from both small arms and artillery."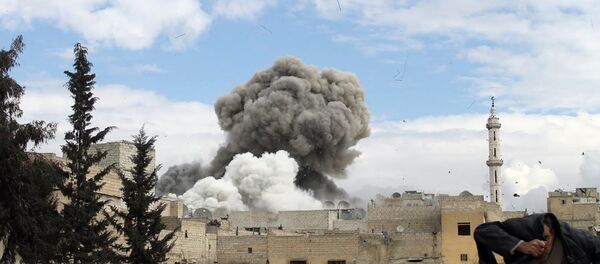 He added that the militants also used armored vehicles in their attacks in Sheikh Maqsood.
According to the spokesman, residential areas of Aleppo were the target of militants' mortar fire during the night.
The Sheikh Maqsood neighborhood was badly damaged and dozens of civilians were killed or wounded, he added.
"Throughout the night, the terrorists were delivering a heavy mortar fire… on residential areas in northern Aleppo."
Syria has been mired in civil war since March 2011, with government forces loyal to Syrian President Bashar Assad fighting numerous opposition factions and extremist groups, such as al-Nusra Front, which is prohibited in a number of countries, including Russia.
"At the moment, a ferocious battle is going on in Sheikh Maqsood, militants are using armored vehicles."