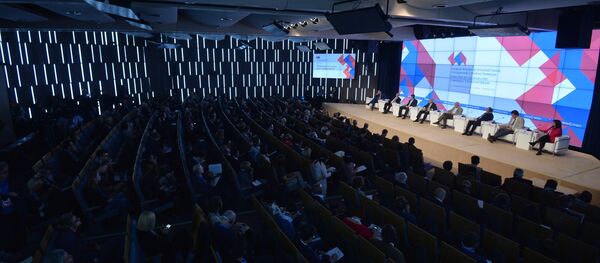 MOSCOW (Sputnik) — Last month, the Ukrainian website Mirotvorets disclosed personal data of more than 4,000 journalists accredited by the self-proclaimed republics of Donetsk and Luhansk authorities to cover developments in the conflict zone. The leak contained names of representatives of such prominent media outlets as CNN, Agence France-Presse, Reuters, the BBC, the New York Times, Vice News, Al Jazeera, among others.
"Another leak of personal data of journalists from different countries has been published recently on the notorious Mirotvorets website, sponsored by Ukrainian politicians. This is a flagrant violation of all legal norms and rules, as well as direct and obvious threat to the lives of journalists… Where is the reaction of Washington and Brussels? Why do we have to force it out? If one stands for freedom, he should stand for it everywhere, and not just where he chooses," Dolgov said at the New Era of Journalism: Farewell to Mainstream international media forum in Moscow.
He reminded that nobody had been punished for the murder of Ukrainian opposition journalist Oles Buzina and Russian journalists, who had been killed in Ukraine.
Mirotvorets regularly publishes the personal data of "public enemies" opposed to the ruling authorities in Kiev, for example, it allegedly revealed information about former parliamentarian Oleg Kalashnikov and journalist Oles Buzina, both of whom were killed in Kiev in April 2015.
The international media forum is taking place in Russia's capital on June 6-7. It is hosted by the Rossiya Segodnya International Information Agency and is part of the 75th anniversary of the Soviet Information Bureau. Media experts from over 30 countries of the world take part in the forum.