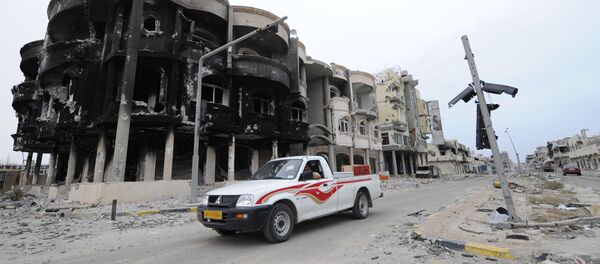 WASHINGTON (Sputnik) — The United States is not conducting any training or assistance to the mission in Libya, but is monitoring the ongoing fight against Daesh, US Department of Defense Press Secretary Peter Cook told reporters on Monday.
"[There is a] small number of US forces that have been making contact with groups on the ground in Libya, [but] there has been no training, advising or assisting mission there. Again, it's been a question making those contacts," Cook stated.
A Libyan militia group said on Saturday that it recaptured the strategic airbase south of Sirte from Daesh militants, according to local media reports. The Gardabiya airbase, just 12 miles south of Daesh-controlled stronghold Sirte, was retaken on Saturday afternoon, according to the Libya Observer news website.
"We've seen those developments and obviously we think it's a good thing that those [forces] have been able to dislodge ISIL [Islamic State] in Libya, and that's something we'll continue to watch closely," Cook stated.
Libya has been in a political and security vacuum since the 2011 when Western-backed Islamic extremists ousted of the country's long-time leader Muammar Gaddafi.
Years of instability created a political and security vacuum in the country that was filled by Islamist militants. Daesh forces gained a foothold on the Libyan coast by capturing the cities of Sirte and Derna.