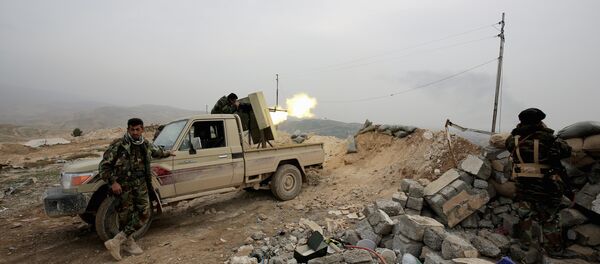 Shingal (Sinjar) is a Kurdish Yezidi city that was controlled by Daesh until August 2014. In a successful offensive, Peshmerga forces liberated the city from terrorists on November 14, 2015.
In the video it can be seen how the Peshmerga engineering team defuses makeshift explosive devices (IEDs) in a 50 meter-long tunnel dug by Daesh inside Shingal.
Before they begin to defuse the bombs a group of armed Peshmerga forces discusses how to proceed with the defusion and they are told that they can make only one mistake. That mistake will cost them their life.
The footage also shows a bomb explosion when the army is heading toward Sinjar. It demonstrates how dangerous the undiffused IEDs can be in the city that has been liberated from Daesh.
The Mayor of Shingal, Mahma Khalil, said that over 80 percent of the city has been destroyed by the terrorists and the international coalition airstrikes, Kurdistan 25 reported.
Earlier, it was reported that Kurdish Peshmerga forces have liberated some 120 square kilometers (46 square miles) to the east of Iraq's Mosul.
"After three days of fighting, Peshmerga Forces were able to capture 120 square kilometers of territory, containing nine settlements, to the East of Mosul," Amir Sherifi told reporters.
The advance is being carried out with the support of the international coalition's air cover, he added.
Some 5,000 Kurdish fighters armed with large-caliber weapons were participating in the offensive, according to Patriotic Union of Kurdistan (PUK).