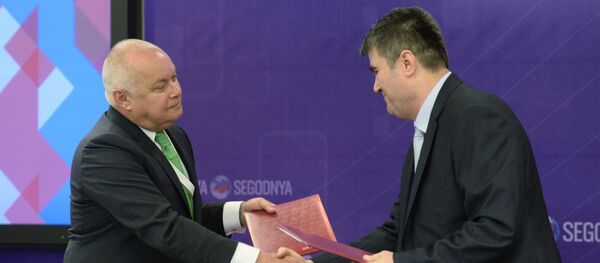 MOSCOW (Sputnik) — According to Ben Jeddou, Russian and Arab media should establish a block similar to BRICS or the Shanghai Cooperation Organization as a counterweight to the West-oriented mainstream media.
"We should use this forum to call for the establishment of a bloc to oppose distortion of the role of media. Today we will sign several agreements, which we attach great importance to, and we believe it is important to create a certain information and journalistic bloc to resist the attempts to exert pressure on us," he told the New Era of Journalism: Farewell to Mainstream international media forum.
The international media forum is taking place in Russia's capital on June 6-7. It is hosted by the Rossiya Segodnya International Information Agency and is part of the 75th anniversary of the Soviet Information Bureau. Media experts from over 30 countries of the world take part in the forum.