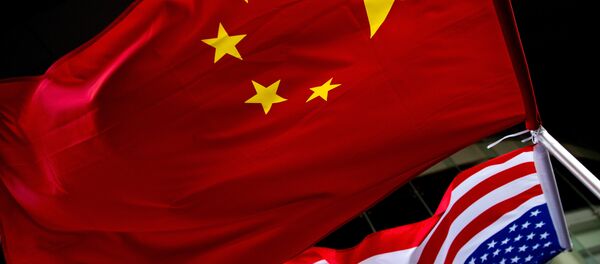 The letter was addressed to Admiral Harry B. Harris, Commander of the United States Pacific Command, and copied to his bosses, US Secretary of the Navy Ray Mabus and US Secretary of Defense Ashton Carter, as well as Japanese Prime Minister Shinzo Abe.
The letter was published by Leslie Fong, former editor at the Straits Times, who said that Ms. Oh Beigong (Oh be gone?) found its way to his inbox. Some fragments of her letter are presented below.
"Dear Admiral Harris,
I write to congratulate you for standing up for mariners the world over to assert the right to freedom of navigation in international waters. You showed much daring when on May 10, you sent the USS William P. Lawrence, an Arleigh Burke class missile destroyer, to within 12 nautical miles of Fiery Cross Reef, over which Beijing has long claimed sovereignty and which it has occupied for years," online publication reported Ms. Oh as saying. Fiery Cross Reef is also claimed by the Philippines, Taiwan and Vietnam.
She also wrote that one didn't need guts, or even brains, to dispatch the destroyer, as they were just carrying out the orders of their political masters. But she thinks the admiral needs more credit for risking the lives of his sailors as he couldn't know for sure that the Chinese would steer clear of the US destroyer.
Ms. Oh further mentioned how back in the 80's during the Cold War period, Soviet frigates "bumped" American naval craft in the Black Sea for intruding into waters which they considered their own. Lately, Chinese commentators have been publicly talking about imitating the Soviets.
She pointed out that according to her the US is really pushing its luck and playing with fire.
"Let me get serious. The US is playing with fire by repeatedly poking China in the eye. We in this region are going to be the collateral damage if this spins out of control. And why should we pay the price when the US does not really have right on its side? As a thinking man, did you not feel discomfort deep inside you when the US kept singling out the Chinese as the bad guys in the maritime disputes?" China Daily reported.
"You must know better than most on this planet that the US has not been able to cite one instance when China actually denied anyone the freedom of navigation or point to any statement by Beijing threatening that right."
She further mentioned the expansionism that the US has been involved in for years and how it is the US that has 11 carrier battle groups circling the globe, each with enough firepower to send four-fifths of the world's countries "back to Stone Age."
"You will say, no doubt, that the Chinese are going to militarize the airstrips and other facilities to project force, thus threatening all the countries in the region. Er, coming from a senior naval officer of a country that operates some 800 bases or military facilities in more than 60 countries around the world, several of them virtually at China's doorstep, that, sir, is a bit rich!"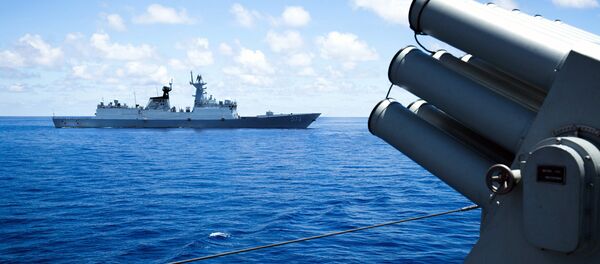 She then cleverly pointed out that the US is not in the habit of admitting that it is or can be wrong. She brought up a few examples of instances when the US refused to take the blame for its actions.
"Bottom line? Might is right. The US is out to stymie the rise of China and prevent it from challenging American dominance, if not hegemony. We get that. So do us a favor, please stop talking about high principles and international law."
She then went on to advise what Admiral Harry B. Harris could personally do in order to regain at least a little bit respect from clear-sighted people who cannot be fooled.
"In the name of asserting freedom of navigation and upholding international law, send your destroyer or whatever to an atoll in the Philippine Sea which the Japanese call Okinotorishima (Okinotori Island) and claim as their territory. The atoll measures no more than 9 sq m at low tide, which is probably smaller than your office in Honolulu, and lies more than 1,700km south of Tokyo. But it is less than 500km from Taiwan itself."
She explained that under Unclos, an atoll is not an island so it cannot be used as the basis to use the usual 200 nautical mile exclusive economic zone or EEZ. But that has not stopped Tokyo from doing so, and it has proclaimed as its EEZ an area larger than the entire Japan.
Taiwan is one of the many that have refused to recognize this. "So, please, dear admiral, send the William P. Lawrence there and have some of its crew go fishing near the atoll. All who look askance at your dubious freedom of navigation expeditions in the South China Sea thus far will applaud you."
She ended her letter with, "Don't let the Chinese beat you to it!"
Earlier, Beijing responded to the call of United States Secretary of State John Kerry to restrict the creation of a national air defense zone in the South China Sea by urging the US and Japan to stop making baseless accusations against China.
"We do not create problems, but are not afraid of trouble," the deputy head of the General Staff of the People's Liberation Army of China, Sun Jianguo, was reported by Reuters as saying.
"China has indisputable sovereignty over the Nansha Islands and the adjacent waters, which is fully backed by historical and legal evidence," China Daily reported Foreign Ministry spokesperson Hua Chunying as saying.
The relevant construction which took place on China's own territory violated no international law.