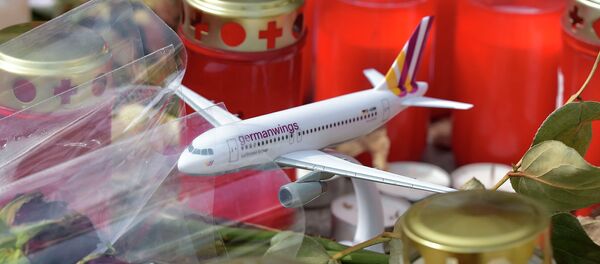 MOSCOW (Sputnik) — Klaus Radner, who lost his daughter and grandson in the crash, claims that Lubitz's doctor was obliged to notify Germanwings or Germany's Federal Aviation Office regardless of the medical secrecy, Die Welt daily said.
In March 2015, the Germanwings Airbus A320 flying from Barcelona to Dusseldorf crashed in a remote area of the French Alps killing all 150 people on board. According to the information from the plane's black boxes, co-pilot Andreas Lubitz deliberately crashed the plane after locking the pilot out of the cockpit.
The crash investigation revealed that Lubitz visited 41 doctors several months prior to the plane crash. The evidence revealed that the co-pilot had complained of losing eyesight and suffering from insomnia and suicide thoughts.
Lubitz was known to have undergone psychological treatment in 2009 while in training at Germanwings' parent-company Lufthansa's flying school. Intermittent bouts of depression caused him to suspend his training in 2008. Lubitz went on to train at Lufthansa's flight school in Arizona after his reinstatement.