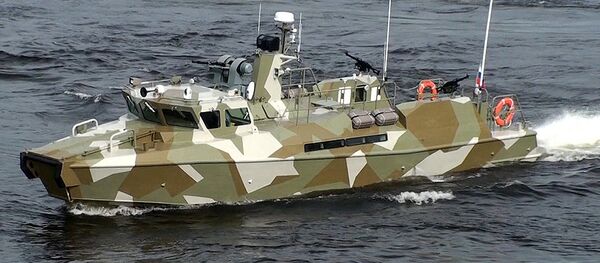 Though still on the drawing board, the new Lider-class nuclear destroyer is expected to displace more water than its existing Sarych-class analogue and will boast the firepower of a cruiser.
Moreover, it is going to be virtually invisible to enemy radar.
Developed by Severny Design Bureau, a branch of the United Shipbuilding Corporation, the new destroyer will have a displacement of about 18,000 tons, a length of 200 meters and a breadth of 20 meters.
Equipped with 70 anti-ship cruise missiles, 128 anti-aircraft guided missiles and 16 anti-ship guided missiles, including Kalibr and Onix, the nuclear powered destroyer will reportedly reach a speed of 30 knots and remain at sea up to 90 days without support.
It will also carry a pair of Ka-27 or Ka-32 helicopters.
Experts note that the vessel would become the world's third nuclear-powered destroyer after the American USS Truxtun (DLGN-35) and USS Bainbridge (DLGN-25). However, according to designers, Russia's warship will outpace its American counterparts.
With nearly 60 destroyers currently afloat, the currently leads the world in the number of such ships that are mainly used to escort carrier battle groups and provide fire support for ground forces and landing parties.
With an average displacement of under 10,000 tons (half of that of Russia's Lider-class destroyer) the US ships pack a lot of firepower but are a bit outdated now. The Americans planned to have built about 10 new destroyers before 2020, but had to settle for just three due to a lack of funds.
Britain's Royal Navy has eight destroyers, each under 5,000 tons. They are mainly used to provide air cover for aircraft carriers. The British are currently replacing their destroyer fleet with modern, 8,000-ton ships.
As for Russia's Lider-class destroyer, it is going to be an all-round ship capable of replacing older destroyers, major anti-submarine ships and small missile cruisers.
It will be a real floating fortress armed with missiles and  artillery and a nuclear power plant to ensure Russia's permanent naval presence in the world.
The Russian Navy is expected to receive twelve Lider-class destroyers by 2025.