As the Syrian Army is getting closer to Raqqa backed by the Russian air force, Daesh terrorists are trying to take control of a different city.
"The northern suburbs of Aleppo, in particular the village of Mare, are facing continuous attempts from Daesh to conquer it, to prevent the battle for Raqqa and to extend control over the city of Azaz," Heidu told Sputnik.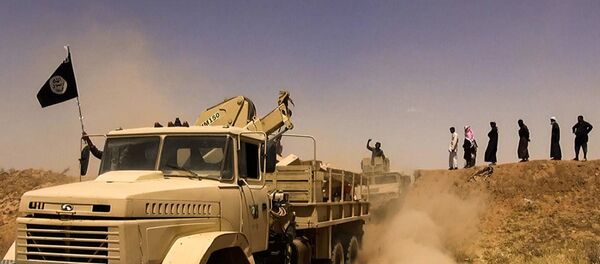 Heidu further explained that the fighters will be able to create a gap in the Kurdish federal region, which now resembles a triangle with vertices in Afrin and Kobani in the northeast.
He further said that the militants also seek to gain control over the border with Turkey, to cut supply lines of the opposition factions, warring with Daesh in Aleppo.
"That way it will be easier to enter Aleppo, to establish control over there and proclaim it as the capital instead of Raqqa," Heidu said.
Despite a truce declared in Syria, Aleppo and surrounding areas remains the site of fierce fighting between the Islamists on one hand and Kurds and the Syrian Army on the other.
Last week, the advent of the Syrian Army operations in Raqqa was first reported by the Lebanese newspaper al-Akhbar.
According to the army troops they were already there for a few days in the village Asriyan in the neighboring province of Hama, preparing for an offensive.
Some units of the Syrian Army moved by approximately 10 kilometers and are now advancing towards the city of Tabqa, which has a vital military airfield. In February and March, the Syrian Army made an attempt to carry out an attack on Raqqa.
After a series of clashes with militants the attack was suspended and the Syrian Army began its offensive on Palmyra.
The Syrian government has had no presence in Raqqa since August 2014. Liberating the city, where some believe Daesh leader Abu Bakr al-Baghdadi is living, has long been seen as key to crippling the terrorist organization.