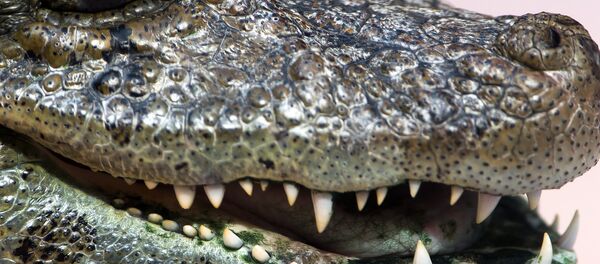 On Tuesday afternoon, officers responded to a 911 call from Lake Hunter in Lakeland, reporting an alligator eating a human body. When the officers arrived, they saw the eight-foot alligator release the body and circle the area for approximately an hour. Law enforcement then called in a trapper who used a baited buoy to capture the animal. 
The alligator was killed by the trapper and brought to police so that the stomach contents could be analyzed.
The victim has not yet been identified, but Lakeland police spokesman Gary Gross told Click Orlando that the body appears to be an adult male, though they are not yet entirely sure. The police stated that the body appears to have been in the water for more than a day, based on the state of decomposition.
On Saturday morning, police received a call to the area about a shirt seen floating in the water, as well as pants and a backpack, near a boat ramp.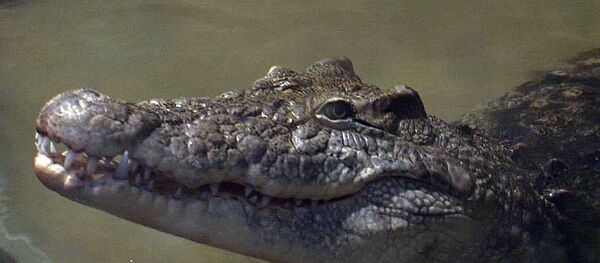 8 December 2015, 21:04 GMT
The caller also reported that there had been an aggressive alligator around the ramp throughout the week. Police responded to the scene, but did not find a body or the animal.
Early on Sunday evening, police were called again about "something large" floating in the water and being circled by an alligator, but when police arrived they again could not find the object or the alligator.
A medical examiner will determine whether the death was the result of a an attack by the gator.
Exactly one week before the discovery in Lakeland, a body was found being devoured by two alligators at the edge of the Everglades. The gators were not harmed during that incident, though police officers stood with assault rifles in case the large reptiles moved in on divers while they recovered the corpse.
The Davie Police Department do not suspect the alligators of killing that person, and are currently treating it as a homicide investigation. The police have still not determined the identity, or even the gender, of the body — which they say appears to have been in the water for at least a few days.