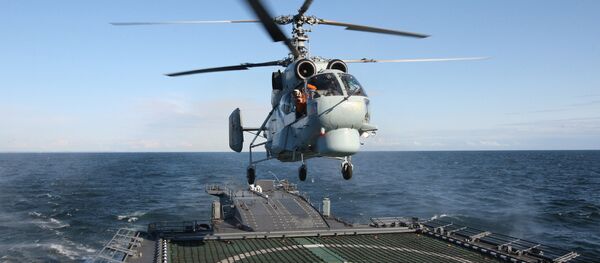 MOSCOW (Sputnik)
–
Russia's Admiral Grigorovich frigate has arrived at its permanent base in Sevastopol, the Black Sea Fleet's spokesman said Thursday.
"The newest frigate Admiral Grigorovich arrived today in Sevastopol after a cross-fleet transition from the Baltic to the Black Sea fleet. This is the first surface far-field ship the Black Sea Fleet has received in the last 35 years. The ship, under the command of Capt. 2nd Rank Anatoly Velichko completed the state testing program and on March 11 this year the naval flag was raised on it," Capt. 1st Rank Vyacheslav Trukhachev told reporters.
In service since March 10, the Admiral Grigorovich is the first of six planned Project 11356 frigates, three of which are due to be delivered to the Defense Ministry by 2017. The frigate left the Baltic Fleet base in the western seaport town of Baltiysk in late April for Sevastopol.
The trials of the Admiral Grigorovich-class frigates were successfully completed in the Barents Sea in late 2015. The frigates, displacing 3,850 tons, are designed for anti-ship and anti-submarine warfare as well as for air defense missions, operating both independently or as part of convoys and naval task forces.