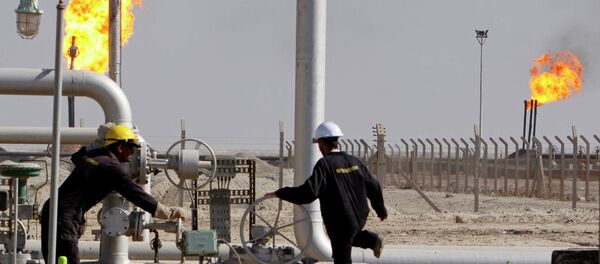 WASHINGTON (Sputnik)
–
The slowed investment in new oil projects over the past year will drive up prices in the future, pushing oil back up to $80 per barrel over the next ten years, US Energy Information Administration (EIA) head Adam Siemienski said on Thursday.
"Over time, the continued slowing of investment that started in 2015 will make it difficult for supply to respond quickly to future growth in demand for oil. As a result, prices are expected to return to nearly $80 per barrel in the next decade," Siemienski told members of the US Congress during a hearing on energy security.
Global oil prices plunged from a June 2014 high of $115 per barrel to less than $30 per barrel at the beginning of 2016. The price drop has impacted major energy producing countries as well as independent energy companies, which have been forced to defer billions of dollars worth of investments in new projects.
Over the short-term, EIA anticipates the international oil cartel, the Organization of Petroleum Exporting Countries (OPEC), will not cut production, Siemienski said. However, as the currently large inventory of petroleum and liquid fuels "taper off, that should bring the markets back into some kind of balance next year," he estimated.
At OPEC's latest meeting earlier this month, cartel members did not reach an agreement to cap oil production, which averaged 31.5 million barrels per day in 2015, and is likely to remain at that level.