Except we might be getting a bit ahead of ourselves, at least according to Robert Stone that is. It turns out that the sort of VR tech that we might think is just around the corner, is actually a long way off.
Stone has a chair in interactive multimedia systems within the College of Engineering Studies and Physical Sciences at the University of Birmingham and has been working with virtual reality tech for the best part of 30 years.
"You're better off in our opinion, providing the end user with an X-Box controller and a 4k LCD screen, than you are putting them into a virtual reality headset, which is much lower resolution. You have wires that connect you to the computer, so it restricts your movement," Robert Stone told Sputnik.
According to Stone, a great deal of what people think they know about virtual reality is just "hype" and as such, most people tend to be pretty disappointed when they actually use these sorts of systems for the first time.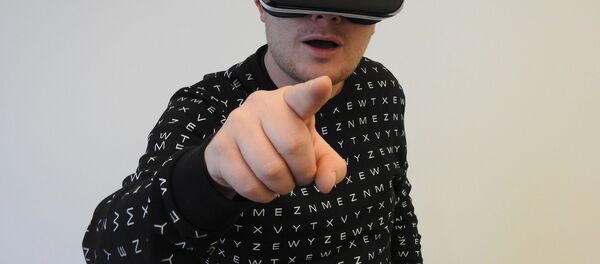 It's not that the graphics aren't good; it's actually far more complicated than that. A virtual reality world — in essence — must fool the brain into believing that it's actually there, and vision makes up only part of our sensory experience.
Stone argues that touch and smell are hugely important in creating a genuinely immersive experience, and that smell in particular "is one of the most immature delivery technologies that's out there."
"I'm a great believer that we're never going to get what the pundits call 'full immersion' until somebody actually invents the Star Trek Holodeck. That sounds quite naff, but it's the case, as people have to don these crazily cumbersome devices — and it's not just headsets, it's gloves and hand controllers too," Stone told Sputnik.
So the future of VR — according to Rob Stone — is not necessarily the fully immersive experience promised by the likes of Google and Oculus Rift, and he doesn't believe he'll see that within his lifetime.
A system known as "mixed reality" however, is far more advanced and is already being utilized by military training programs — Stone described one such project where the interior of a Chinook helicopter is mimicked using a mixture of computer graphics combined with a camera input, inside a physical space.
"It's blending the best of the real with the best of the virtual," Stone said.
Rob Stone was involved in the launch of the UK's National Advanced Robotics Research Center, where he also established the Britain's first industrial VR team, and was one of the first Europeans to experience the NASA VIEW Virtual Reality system in 1987.