MOSCOW (Sputnik) — The negotiations must be immediately resumed in the format of direct talks, according to the deputy foreign minister.
"We believe that negotiations must resume as soon as possible <…> There should be no artificial delays," Gatilov told RIA Novosti in an interview.
According to Gatilov, every effort should be made to the negotiation process on Syria to restart.
"Moreover, it is desirable to run it in the format of direct negotiations between the parties, between the government delegation and the opposition," he added.
According to him, there is still no unity in the opposition camp.
"This creates a very serious obstacle for the launch of a substantive negotiation process," Gatilov said.
A single Syrian opposition group must not dictate its demands on intra-Syrian peace talks, the deputy foreign minister stressed.
"And of course it [the peace process] must not be taken hostage by desires, whims of a single opposition group. It must not dictate its demands," Gatilov told RIA Novosti.
He added that "the situation is already difficult."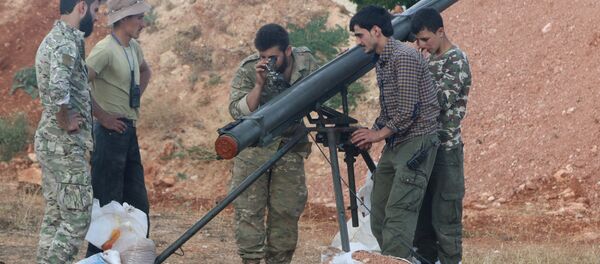 Gatilov expressed his confidence that it is up to the international community to act to relaunch the peace talks.
"As we all know, High Negotiations Committee delegation left the latest round in Geneva while the government delegation reiterated its participation in the talks and its readiness to continue them. And now the situation [on future talks] is unclear," he concluded.
Gatilov also underscored that Russia and the United States have reached a certain progress in military coordination in Syria, though some problems remain unresolved, as it is difficult to set ceasefire regimes in those districts, where terrorists and the so-called moderate opposition are present.
"We maintain quite close interaction and conduct consultations on military line. Russian and US military exchange information <…> and we have reached a certain progress on the working level. As a result, the silence regime has been set in some districts, many terrorist groups said they ended hostilities and joined the political process. The main problem that we have now is a delimitation issue between Jabhat al-Nusra, Daesh terrorists and the so-called moderate opposition," Gatilov said.
According to the deputy minister, the real problem is that it is difficult to draw clear demarcation lines in many districts where people from all groups are mixed with each other.
Gennady Gatilov noted that there is a significant progress in the delivery of the humanitarian aid to Syria, Russian Deputy Foreign Minister Gennady Gatilov said.
"It must be said that there is a significant progress in this regard. Thanks to our work with the Syrian government we managed to achieve a lot," he told RIA Novosti.
The deputy foreign minister also said that despite the progress, aid delivery to the populous besieged Damascus suburbs is complicated since militants own anti-air weapons able to shoot down planes and helicopters.
He added that "the Russian role in the simplification of the humanitarian aid delivery is acknowledged by everyone, both our partners, including the Americans, and UN envoys, humanitarian agencies participating in the process."
Moscow is not planning to stop it's active work with Damascus on getting humanitarian aid to Syria anytime soon.
"We continue to work actively in this direction with Syrians, seeking authorization for the supply of humanitarian cargoes. In many issues they are willing to cooperate but at some points they have their limitations. We should look at the situation realistically: a civil war is ongoing and, of course, all of this is linked to the military and political situation," Gatilov said.
He added that under the UN principles the delivery of the humanitarian aid without the government authorization is not an option.
Earlier, US Department of State spokesperson Mark Toner said that Washington believes that humanitarian aid to the besieged Syrian areas could have been delivered with the help of Russian aviation. The US diplomat also expressed disappointment that Russia allegedly puts no pressure on Damascus to issue permits for the delivery of such aid.
Syria has been mired in civil war since 2011, with government forces loyal to Syrian President Bashar Assad fighting numerous opposition factions and extremist groups.
The US-Russian brokered ceasefire entered into force on February 27. Terrorist organizations such DAesh and the Nusra Front, both outlawed in Russia, are excluded from the truce.
The number of Syrian settlements that have signed up to a ceasefire deal with the government reached 145 on Sunday.