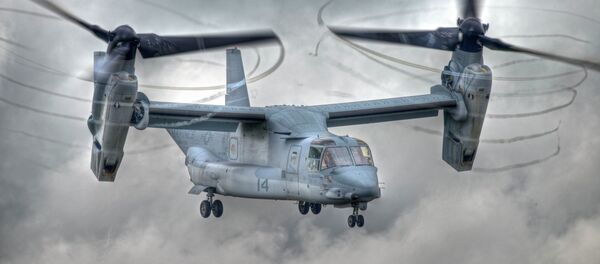 WASHINGTON (Sputnik) – The V-22 is being tested and evaluated as it is scheduled to become the singular logistics platform on an aircraft carrier for future carrier on-board delivery operations, the NNS explained.
"In preparation for the planned replacement of the C-2 Greyhound, USS Carl Vinson (CVN 70) received a V-22 Osprey from Marine Operational Test and Evaluation Squadron (VMX) 1 for landings and takeoffs, June 12," the report stated.
"With the incorporation of the V-22, I think the fleet will also see additional capabilities… because we now have the option of taking cargo and personnel to some of the smaller decks without first having to come to the aircraft carrier," US Marine Corps Lieutenant Colonel Brett Hart told the NNS.
The carrier would then have potentially more flight deck and air space freed up, allowing it to launch more sorties in support of combat operations, Hart added.
The V-22 Osprey is a high-speed hybrid between a jet and a helicopter that can reach speeds of 351 MPH. However, since 2007, Osprey defects have been linked to crashes and accidents resulting in 36 fatalities, including six during combat situations.