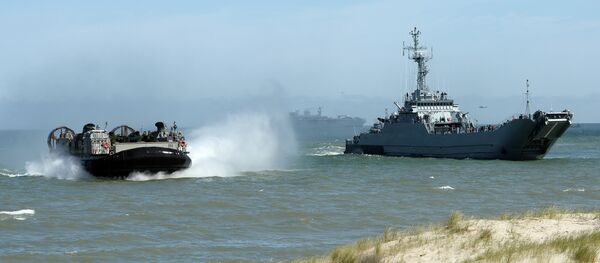 TALLINN (Sputnik) – Military exercises dubbed Saber Strike 2016 started on Monday at Estonia's Tapa training base. Over 10,000 service personnel from 13 NATO and partner nations are taking part in the drills. Participating nations include the three Baltic states, Denmark, Finland, France, Germany, Luxembourg, Norway, Poland, Slovenia, the United Kingdom and the United States.
"This morning for the first time two US rocket batteries M124 HIMARS have arrived at Tallinn airport to participate in the Saber Strike [drills]…" the Estonian Defense Forces said in a statement.
The aim of using the HIMARS multiple rocket launchers is to boost military cooperation between the allies as well as training Estonian soldiers, according to Maj. Patrick Vardaro, who is a staff officer with the US 2nd Cavalry Regiment.
"The rocket complexes will participate in shootings at the central range of the [Estonian] Defense Forces. Special attention will be paid to exchange of information between us and the allies as well as to directing fire procedures," he said.