May 29, 1985. Brussels, Belgium 1985/86 European Champions Cup final. Liverpool —Juventus    
Probably one of the most tragic cases of fan violence which has gone down in the history of European football.
30 minutes into the game at Brussels Heysel Stadium English fans stormed into the "Italian" section of the stadium. Juventus fans ran back on the terraces and away from the threat into a concrete retaining wall. Fans already standing near the wall were crushed.
59 people died and over 600 were injured.
After this tragedy all English clubs were banned for five years from all European competitions. UK authorities cracked down hard on unruly fans resulting in a significant drop in stadium violence.
June 14, 2000. Eindhoven, Netherlands. Euro-2000. Prior to Sweden-Turkey game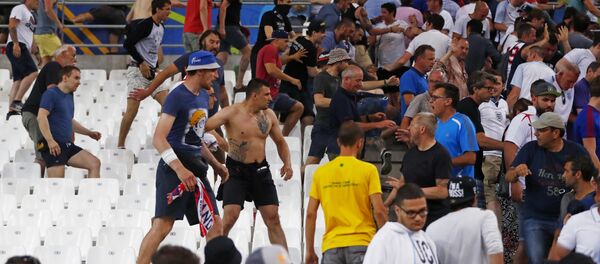 Swedish and Turkish fans clashed on the city's central square ahead of the game. Violence erupted in earnest after the Turks tore down the Swedish flag hoisted on a statue and replaced it with their own. Enraged Swedish supporters charged forward pelting the Turks with bottles and starting a brief fistfight.
Police had to wade in separating the sides. About 10 people were arrested. Similar scuffles happened also in Stockholm where around 3,000 people watched the game on a big screen set up in one of the city's parks. 
Small clashes between the fans eventually spilled out into serious clashes. 20 policemen posted at the site initially failed to stop the fighting, but with the arrival of reinforcements, they restored order arresting about 10 people.
No sanctions were used against the two countries' football federations by UEFA.
June 16, 2000. Brussels, Charleroi, Belgium. Euro-2000. Prior to England-Germany game.
300 English fans clashed with migrants in the city's Beurs district. In another incident a group of English fans sipping beer outside a local Irish pub went on a rampage after being provoked by local police. Similar riots later occurred in Charleroi where English fans scuffled with Turkish migrants.
Police waded in with tear gas and a water cannon. The English fans responded with café chairs.
Many English supporters were arrested. One ended up in intensive care with a knife wound and four were injured.
In all, about 800 English fans were arrested.
No sanctions were used against the English Football Federation by UEFA
July 21, 2011. Istanbul, Turkey. Fenerbahçe-Shakhter (Donetsk) friendly
The game was stopped at the 67th minute after aggressively-minded Fenerbahçe fans stormed onto the pitch.
Game stopped.
Neither side was punished.
February 17, 2012. 2011/2012 Egyptian national championship. Port Said. Al-Ahli —Al-Masri
A major scuffle between fans erupted after the game leaving 77 people dead and about 1,000 injured.
© AFP 2023 / STR
Egyptian medics carry a fan wounded during clashes between rival football fans after a football match between Al-Masry and Al-Ahly in Port Said on February 1, 2012. (File)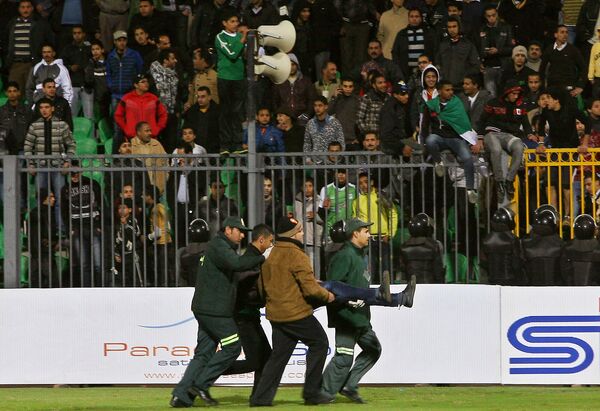 Egyptian medics carry a fan wounded during clashes between rival football fans after a football match between Al-Masry and Al-Ahly in Port Said on February 1, 2012. (File)
The surviving fans were put on trucks and taken to the local railway station to board a train to Cairo.
Egyptian prosecutors and the Supreme Military Council have yet to announce the results of the investigation.
June 16, 2012. Warsaw, Poland. Euro-2012. Russia-Poland. Before and after the game.
Russian fans marched in the city center. Polish police took the situation very seriously. The 5,000-strong Russian column was escorted by nearly 6,000 police officers. Clashes between Polish and Russian fans erupted right during the march. There came the sound of firecrackers set off by the marchers, while police fired in the air trying to chase away the more aggressively-minded fans. A series of riots flared up after the game provoked by Polish supporters.
Polish police managed to safely escort the Russian column to the stadium. 
184 people were later arrested, including 156 Poles and 25 Russians as well as an Algerian, a Hungarian and a Spaniard.
No sanctions were used.
February 15, 2014. Spanish football championship. Villareal. Villareal-Selta    
The match was stopped at the 87th minute after one of the hosts' fans threw a flare onto the pitch.
20 minutes later the game resumed.
Some of the fans got away with a fine. 
October 14, 2014. Belgrade, Euro-2016 qualifier. Serbia-Albania
The game was cancelled after a drone with the Albanian flag was launched by Albanian fans which led to violent clashes between the fans.
Olsi Rama, the brother of Albanian Prime Minister Edi Rama, was arrested on suspicion of launching the UAV.
Albania was punished with forfeit defeat and the teams were fined 100,000 euros each.
March 30, 2014. 2014/15 Swedish championship. Stockholm, Sweden. Helsingborg-Jurgorden
Game stopped at 40th minute after Jurgorden fans charged onto the pitch on news of the death of a fellow supporter who  had been killed by a bottle someone had hurled at him.
The game was rescheduled.
No one has yet been punished for killing the death of the unlucky Jurgorden supporter.
February 19, 2015. Europa League. Rome, Italy. Prior to the 1/16 final match between Roma and Feyenoord    
Feyenoord fans went on a rampage in Rome clashing with police and Roma supporters.
12 people were arrested after riot police waded in to end the violence an estimated 1,000 people took part in. The game was cancelled.
The arrested fans were fined. Neither of the two teams was punished by UEFA.
March 27, 2015. Podgorice, Montenegro. Euro-2016 qualifier. Montenegro-Russia
Violence erupted right after kickoff when Russian goalkeeper was hit by a flare thrown by a Montenegrin fan. The game resumed 35 minutes later.
The game was canceled at the 68th minute after Montenegrin supporters started throwing things at the Russian players.
The Montenegrin team was punished with forfeit defeat and the country's football federation fined 50,000 euros. The Russian football federation was fined 25,000 euros.
July 30, 2015. Europa League qualifier. Charleroi (Belgium) — Beitar (Israel)
Shortly into the game fans started fighting and throwing plastic chairs at each other.
The game was not stopped even though police interfered to restore order.
Beitar was fined 95,000 euros for the violent behavior of its supporters and was ordered to close one of the sectors of their stadium for the duration of the next two Europa League games.
June 12, 2016. Euro-2016 Lille, France. Prior to Germany-Ukraine game.
Dozens of drunken German fans attacked Ukrainian supporters in a café in the city center with bottles and flares.
Several people suffered head injuries but no one was seriously hurt. The attackers fled the scene before police arrived taking along Ukrainian flags and scarves.
The German and Ukrainian football federations got away with "recommendations" from the UEFA.