MOSCOW (Sputnik) — Earlier in June, Yamanov said that the Irkutsk Aviation Plant, belonging to the Irkut Corporation aircraft manufacturer, has supplied 61 Su-30SM jets to the Russian Aerospace Forces and the Russian Navy's naval aviation.
"Before the end of 2018, the Irkutsk Aviation Plant will produce and supply another 55 planes for the Russian Aerospace Forces and the Russian Navy. The total number of Su-30SM jets will come to 116, with 88 for the aerospace forces and 28 for the naval aviation," Yamanov said.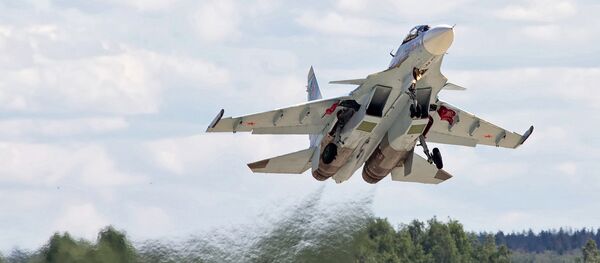 The
Su-30SM
is produced by the Irkut Corporation under a contact with the Russian Defense Ministry. The Su-30SM has been supplied to the Russian Armed Forces since 2012.
The Su-30SM is a 4+ generation fighter jet, developed by Russia's Sukhoi Aviation Holding Company. It is a two-seat derivative of the earlier Su-27UB (NATO reporting name: Flanker) capable of air-to-air and air-to-ground missions with a wide variety of precision-guided munitions. The aircraft features thrust-vectoring engines to enhance maneuverability.