PARIS (Sputnik) – Two more Russians have been detained in the French city of Lille, bringing the total number of detained Russian football fans to 12, a Russian Consulate representative told RIA Novosti.
"Yes, two more have been detained for alcohol consumption…They should be released tomorrow," the representative said.
On Wednesday, French Nord Department police said that a total of 16 football fans, including six Russian nationals, had been detained in a new wave of clashes in Lille. The number of detained Russians later went up to 10.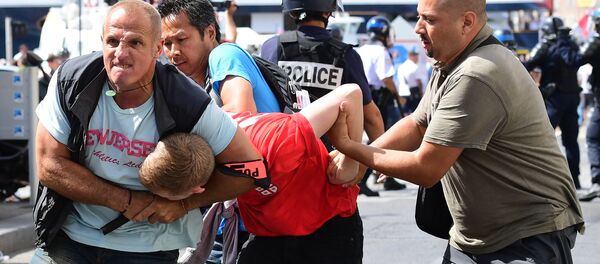 According to police, one Ukrainian and three Russian fans will be expelled from France for violation of public order.
One of the detained could have been involved in the Saturday Marseille clashes, police said.
On June 11, the Russian national football team played against England in its first UEFA Euro-2016 football match in the French city of Marseille. After the game, clashes between Russian and English fans erupted at the stadium and in the port town. As a result, at least 30 people were injured.