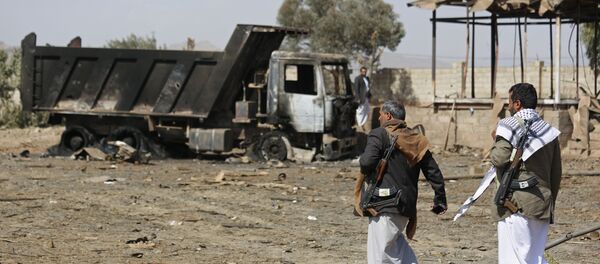 DUBAI (Sputnik) — The United Arab Emirates is withdrawing from the anti-Houthi military operation in Yemen, Abu Dhabi Crown Prince Sheikh Mohamed bin Zayed Al Nahyan said Wednesday.
"Our standpoint today is clear: war is over for our troops; we're monitoring political arrangements, empowering Yemenis in liberated areas," the crown prince said on Twitter.
The statement comes after last week, an UAE military plane crashed in Yemen's Aden province, killing both pilots on board.
Since 2014, Yemen has been engulfed in a military conflict between the government headed by President Abd Rabbuh Mansur Hadi and Shiite Houthi rebels, supported by army units loyal to former President Ali Abdullah Saleh.
Since March 2015, the United Arab Emirates, as part of the Saudi-led coalition, has been carrying out airstrikes against Houthi positions in Yemen at President Hadi's request.