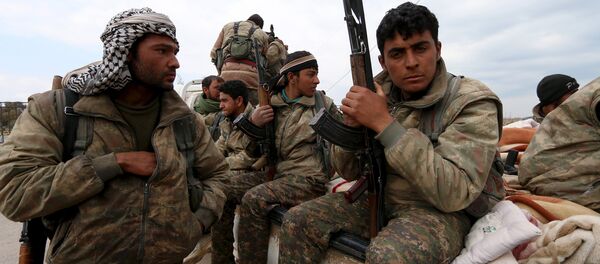 As a result of the fighting that took place on June 15, six terrorists were killed and the rest retreated without continuing to fight.
One member of the armed Yazidis told Sputnik that the unit was able to kill six terrorists who had suicide belts on and were trying to break through to Bab Shlo.
"Suicide bombers wanted to climb the mountain of Sinjar, where there is a camp for Yazidi refugees on the border with Syria, where women and children reside," the source told Sputnik.
In the video it can be seen that the Yazidi militia were trying to push back the militants. The battle took place near a cement factory in Sinjar.
Sputnik Agency also publishes exclusive footage of a mining maneuver by the Yazidi unit as a rapid response to a sudden attack by the militants.
Sinjar is a Kurdish Yazidi city that was controlled by Daesh until August 2014. In a successful offensive, Peshmerga forces liberated the city from terrorists on November 14, 2015.
Earlier, it was reported that Kurdish Peshmerga forces had liberated some 120 square kilometers (46 square miles) to the east of Iraq's Mosul.
The advance was being carried out with the support of the international coalition's air cover. Some 5,000 Kurdish fighters armed with large-caliber weapons participated in the offensive, according to Patriotic Union of Kurdistan (PUK).