The Nord Stream 2 pipeline is expected to start operating in 2019. It will deliver Russian gas to Germany, bypassing Ukraine, Poland, and the Baltics.
The three transit countries as well as the European Commission have opposed the project, but work continues, the article read.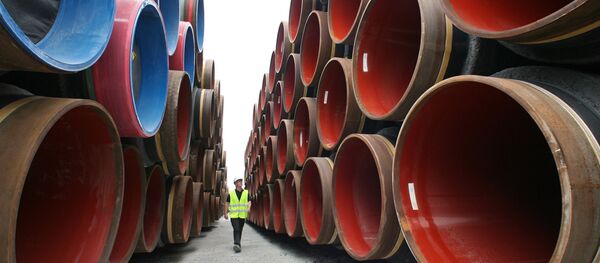 Despite
anti-Russian sanctions
, the German government has authorized several tenders for its construction. German Vice Chancellor Sigmar Gabriel recently underscored that Nord Stream 2 is a purely commercial project and has nothing to do with politics.
Last October, during a meeting with Russian President Vladimir Putin, Gabriel said that sanctions against Russia should be gradually lifted. He proposed dealing with energy issues, without getting involved in political quarrels.
According to Gabriel, if Berlin manages to keep all legal aspect of the project in its competence the European Commission would have little chance to block the construction.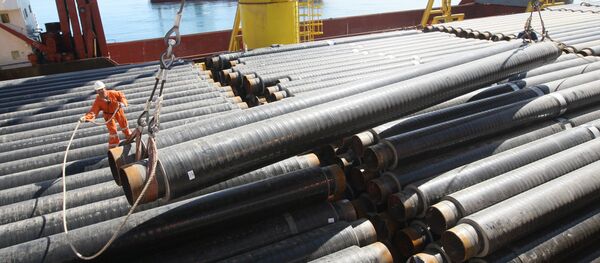 According to the Third Energy Package, the company that produces gas cannot operate the pipeline. Gazprom owns 50 percent of Nord Stream 2, so it would violate the regulations. However, it would run in international waters, beyond jurisdiction of the EU. This is why Brussels cannot apply norms of the Third Energy Package to block it, the article read.
Those supporting a pipeline under the Baltic Sea argue that the Ukrainian gas transportation system is in poor condition. This risks disrupting gas supplies since Ukraine has traditionally been a transit country for Russian gas to Europe. However, Kiev cannot afford modernization of its gas transportation system. The Ukrainian government also opposes Russian investments in its energy sector. What is more, gas transit has long been a source of income for Ukrainian oligarchs, the article read.
Ukraine has actively opposed Nord Stream 2 because the pipeline would strip them of transit fees.
Last year, Kiev received €1.8 billion on transit of Russian gas. If transit stops in 2019 this would deal another heavy blow to the Ukrainian budget.
Other regional countries are trying to reduce their reliance on Russian gas, by building own terminals for liquefied natural gas. However, if Nord Stream 2 is built it will deliver much more gas to the European market, making those terminals useless, the article read.
"Finally, Nord Stream 2 will strengthen Gazprom's position in the European market. However, it will also strengthen mutual commercial reliance between Moscow and Europe," it added.
Despite all difficulties, Berlin is preparing for the implementation of the project. However, Nord Stream 2 is also facing opposition in German government, the article read. Some in Berlin say that the project is "dangerous" and would undermine European energy security.