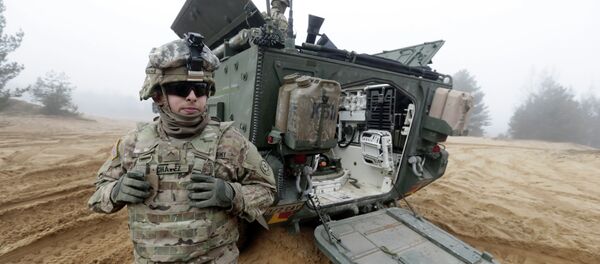 BRUSSELS (Sputnik) — NATO defense ministers agreed Wednesday rotational deployment of four battalions in the Baltic states and Poland. The majority of the contingent, to be deployed as early as in 2017, will comprise military personnel from the United States, Germany and the UK.
"NATO officials realize that it does not matter for Russia whether it will be constant rotation or permanent deployment, prohibited under the Russia-NATO Founding Act," Grushko told Russian reporters in Brussels.
Grushko stressed that Russia considers NATO rotation plans in Eastern Europe a threat to national security and will respond adequately to such a move.
NATO is using propaganda campaign around Russian snap military exercises as a tool to justify the Alliance's increased military presence close to Russian borders, Grushko said.
NATO Secretary General Jens Stoltenberg said Wednesday that Russian Army's snap military drills and combat capability checks were jeopardizing military transparency and predictability in Europe.
"Our practice of snap military drills does not threaten anyone. NATO is feeding media frenzy around them as another tool to justify the Alliance's plans to strengthen its 'eastern flank,' Grushko told Russian reporters in Brussels.