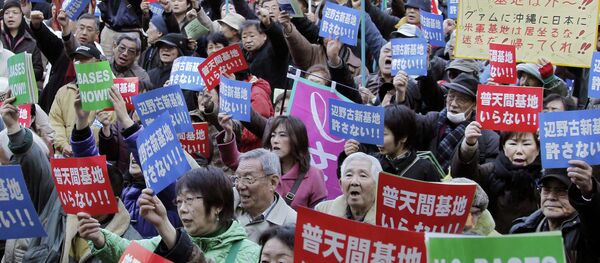 TOKYO (Sputnik) – The special law enforcement team comprises about 40 people who are on the streets between 7 p.m. and 10 p.m, the Japanese broadcaster said. The team was formed following several tragic events involving US servicemen.
The US command of the military bases in Okinawa has previously introduced a curfew for the personnel serving in the region, to be implemented from May 27 and until June 24, after last month former US Marine Kenneth Franklin was arrested on suspicion of stabbing and strangling a 20-year-old Japanese woman near the base. Franklin has reportedly admitted to committing the murder.
Following the events, a US servicewoman from the Kadena Air Base in Okinawa injured two people in a reported drunk driving incident.
On Monday, the Japan-based US military command introduced a temporary ban on alcohol consumption and restriction of movement for the US Navy personnel in Japan.
The number of regular police officers serving in Okinawa is expected to increase in the near future, according to NHK.