MOSCOW (Sputnik) — Fifty-five members of the Senate voted in favor of the law on anti-terrorist operations, while 28 voted against, with three abstaining from the vote, local PAP news agency said. The law was passed without any amendments added.
The lower chamber of the Polish parliament, the Sejm, approved the new anti-terrorism draft law on June 10.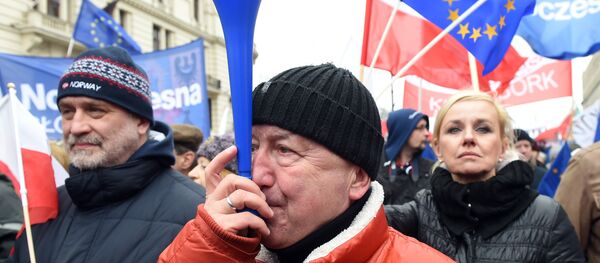 The new legislation, approved by the Polish government in May, has been heavily criticized by Polish opposition for violating civil rights, as it provides security services with unrestricted control over the digital communication of foreign nationals, access to confidential databases, and mandatory sharing of personal data with mobile network operators, as well as by authorizing border closure in case of a terrorist threat, among other measures.
The authors of the bill hope that the law will come into force before a NATO summer summit in Warsaw which is scheduled for July 8-9. The law should be signed by the president to come into force.