WASHINGTON (Sputnik) — Detainees at the US detention center at Guantanamo Bay, Cuba should be tried in a US federal court, because the secret military commissions have failed to justly prosecute suspects, former Guantanamo chief prosecutor Morris Davis told Sputnik.
"The federal courts have worked well, the military commissions have yet to work," Davis said on Friday.
In 2001, President George W. Bush authorized the creation of military commissions to prosecute suspected terrorists allegedly linked to the September 11, 2001 terror attacks. When President Barack Obama took office, charges were pending against 13 defendants in military commissions. Other suspected terrorists at Guantanamo Bay were being held without formal charges brought against them.
The Bush administration started the commissions because they believed the process could be "swift, severe, and secret," Davis explained. "It is 2016, and [we are] still waiting for the first successful military commission."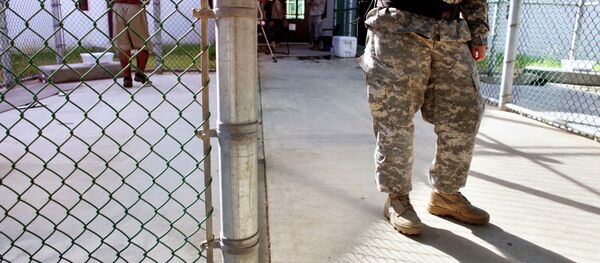 The United States has successfully prosecuted numerous of terrorism cases in federal court, Davis noted, citing the successful trials of al-Qaeda conspirator, Ahmed Ghailani, and al-Qaeda founder Osama Bin Laden's son-in-law Sulaiman Abu Ghaith.
"This whole notion that you hear a lot of politicians say we can't bring terrorists into our backyard, we have done it dozens and dozens of times and it has been successful," Davis observed.
After taking office in 2009, Obama vowed to close down the detention facility at Guantanamo Bay and end the military commissions. He later changed his position on the commissions and currently faces legal opposition from the US Congress in his efforts to transfer the remaining 80 Guantanamo detainees.
A number of US lawmakers have opposed ending the military commissions arguing that terrorism suspects would be afforded undeserved legal rights in US courts, or testimony given in court could jeopardize national security or state secrets.
Davis resigned from his post as chief prosecutor at Guantanamo Bay in 2007 after the Bush administration called for the use of information obtained during torture as evidence against terrorism suspects. He was later terminated from a government job for penning an opinion piece criticizing what he called the "double standard" of justice of Guantanamo military tribunals.