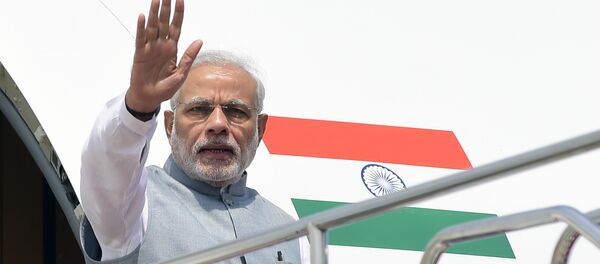 NEW DELHI (Sputnik) — Indian Prime Minister Narendra Modi and Thailand's visiting Prime Minister condemned terrorism in all its forms and manifestations and resolved to work together in building a new global strategy for combating terrorists. Both leaders acknowledged the increasing threat from nontraditional security arenas and agreed to enhance substantive cooperation to address the issue.
"We are both aware that the rapid spread of terrorism and radical ideology poses a common challenge to both our societies. And we also recognize that our close security partnership would help us to secure our peoples from these threats. In our shared objective to combat these challenges, India is particularly grateful to Thailand for its assistance and cooperation," Indian Prime Minister Narendra Modi said after meeting with Thailand's Prime Minister. 
Modi further added that, "Beyond terrorism, we have agreed to further deepen our security engagement in the fields of cyber security, narcotics, transnational economic offenses and human trafficking."
Prime Minister of Thailand Prayut Chan-o-Cha is on a three-day visit to India; on Friday he met Prime Minister Modi in Delhi's Hyderabad House.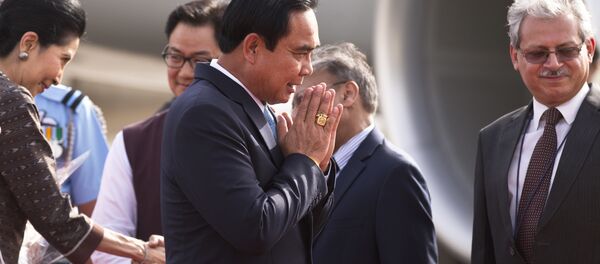 India and Thailand also agreed to strengthen regional connectivity efforts such as the India-Myanmar-Thailand Trilateral Highway and agreed to expedite the completion of the project. 
"We have prioritized the completion of the India-Myanmar-Thailand Trilateral highway and the early signing of a Motor Vehicles Agreement between our three countries. Improving access to Southeast Asia from our Northeastern States benefits both our peoples," Prime Minister Modi said.
Both sides expressed a keen interest in enhancing cooperation in maritime security. 
Thailand also expressed an interest in the Indian defense industry and its experience in the field of defense R&D and production. Both sides agreed to explore key areas of future engagement based on mutually identified areas of cooperation.