MOSCOW (Sputnik) – After Montenegro was invited to NATO in December 2015, tens of thousands of citizens took to the streets of the capital Podgorica and other cities to demand a referendum on the issue. In May, the leader of Montenegro's Democratic Front party, Milan Knezevic, told Russian media that over 50 percent of people surveyed in the country opposed NATO membership.
"Greatest danger for Montenegro is coming from NATO. The so-called NATO enlargement is, in fact, creation of new iron curtain in Europe in order to prevent achievement of De Gaulles [former French president] vision from November 23rd 1959, which reads: 'Yes, that is Europe, from the Atlantic to the Urals. That's whole Europe and that will determine the fate of the world," President of Socialist People's Party of Montenegro Srdjan Milic told Sputnik on Friday.
Earlier in the day, Russian President Vladimir Putin said that NATO is completely disregarding Russia's concerns with regard to the alliance's expansion.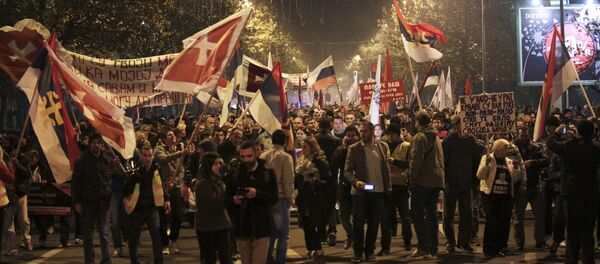 "For some reason, NATO infrastructure must constantly be expanded and moved closer to the Russian borders. Did this emerge yesterday? Now they are accepting Montenegro. Who is threatening Montenegro? Therefore, this is complete disregard towards our position in everything," Putin said.
The Russian president also called Washington's unilateral withdrawal from the Anti-Ballistic Missile Treaty an issue.
"An outside threat, an outside enemy is needed, otherwise why is this organization [NATO] needed?… If we continue following such logic, act to escalate and intensify efforts to scare each other, then one day we may come to a Cold War. We have a completely different logic, it is aimed at cooperation and search for compromise," the Russian president stressed.
In May, the foreign ministers of NATO member states signed an accession protocol for Montenegro, granting the Balkan country observer status at alliance meetings. Montenegro will be granted membership to the alliance once the protocol is ratified by all 28 NATO member states.
Russia's Foreign Ministry has warned that the negotiations over Montenegro's NATO membership will harm Eurasian and Atlantic security systems, as well as relations between Russia and the alliance.
Since 2014, NATO has been building up its military presence in Europe, using Moscow's alleged interference in Ukraine as a pretext for the move. Moscow has repeatedly denied the claims and warned NATO that the military buildup on Russia's borders is provocative and threatens the existing strategic balance of forces.