WASHINGTON (Sputnik) — "The Afghan army appears to be collapsing again," Ohio Northern University Assistant Professor of History Robert Waters told Sputnik.
On Thursday, Department of Defense spokesperson Peter Cook told reporters that US policymakers did not rule out sending additional combat aircraft to expand their air support operations for the Afghan army, even though no such orders had been given yet.
Waters explained that the new policy revealed President Barack Obama and his Defense Secretary Ashton Carter were responding to warnings being given to them by the new US forces commander in Afghanistan, General John Nicholson.
"As the new guy, General Nicholson and his colleagues must think he has the juice to pressure Obama into keeping a semi-adequate force in place," Waters commented.
Obama had made clear that he did not want to reintroduce significant US ground forces into Afghanistan, but he was also determined not to allow the Islamist Taliban to completely reconquer the country during his last months in office either, Waters pointed out.
"It's one of those 'rock meet hard place' situations because we know from Iraq and Libya how disastrous it is to leave a vacuum, but this can't go on forever," he warned.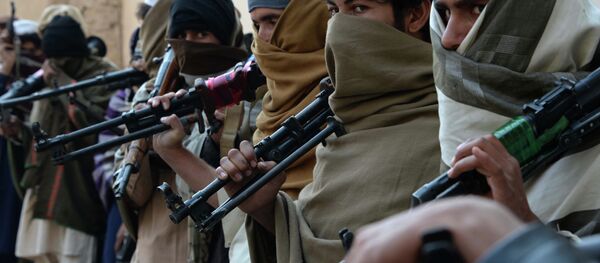 US strategy in Afghanistan under both Presidents George W. Bush and Obama had been disastrously weakened by the corruption and incompetence of the state system and army that both administrations had established and supported in Kabul, Waters said.
Such problems had been deeply embedded in US nation-building efforts around the world for more than half a century, Waters recalled.
"It's odd how our opponents' armies in the Third World — whether Communist in the 1960s and 1970s or Islamist today — have the will to fight and win while our allies generally prefer to command from bars in their capital city while stealing their soldiers' salaries and rations," he observed.
King's College Department of War Studies Professor John Bew said the new US policy in Afghanistan applied the same combination of air power and ground support elements the United States was already using in Iraq and Syria.
"As much as anything, it shows the entrenchment of the new way of war," Bew stated.
Bew also maintained that Obama remained determined to prop up threatened allied governments in Afghanistan and as well as in Iraq and Libya.
"For what it's worth, it gives a bit of a lie to the idea of American retreat or unwillingness to prop up the world order," he pointed out.
The redeployment of the nuclear aircraft carrier Eisenhower and its supporting carrier group from the Persian Gulf to the Mediterranean should be seen as part of the same determination to maintain current US force and deterrence levels, Bew concluded.