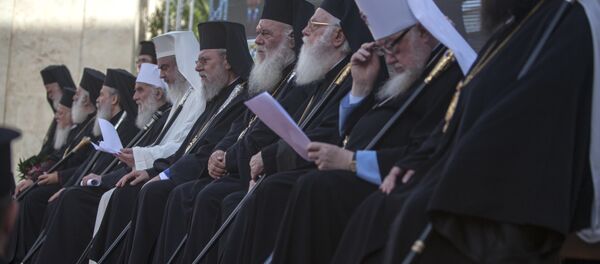 KOLYMVARI (Crete) (Sputnik) — The upcoming Holy and Great Council of the Orthodox Church in Crete may turn over a new leaf in history of Orthodoxy, Archbishop Job of Telmessos, the spokesman of the Istanbul-based Ecumenical Patriarchate, told Sputnik.
The Council will convene on the Greek island on June 20-26 after over 50 years of preparations. Of the 14 national Orthodox churches, four said they would not attend the event.
"Churches came together before for all-Orthodox conferences, pre-council meetings and sessions of preparatory commissions. But they were not canonical. The Council is the most canonical official body… We hope the Council will not only bring closure to this meeting process that lasted for the entire 20th century but will also mark the start of a new era of Orthodoxy," the archbishop said.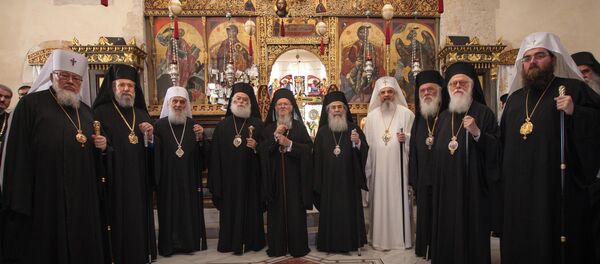 The Churches of Antioch, Bulgaria, Georgia and Russia said they would skip the meeting after a dispute over the agenda. Some 300 million people around the world belong to the eastern branch of Christianity, around two-thirds of them to the Russian Orthodox Church.
The Pan-Orthodox Council was called at the Sixth Synaxis of Primates in Chambesy, France on January 2016. The Ecumenical Patriarchate of Constantinople said the top clerics had finalized the council's agenda and prepared documents ahead of the historic occasion.
But the Russian Patriarchate said that, contrary to Constantinople's claims, the decision to convene the Pan-Orthodox Council was neither taken unanimously nor signed by all churches.
Archpriest Nikolai Balashov, deputy chair of the Moscow Patriarchate's External Church Relations Department, showed a copy of the decision on the Council during Friday's press conference at the Rossiya Segodnya International Information Agency. He pointed out that it was not signed by the Greek Orthodox Church of Antioch.