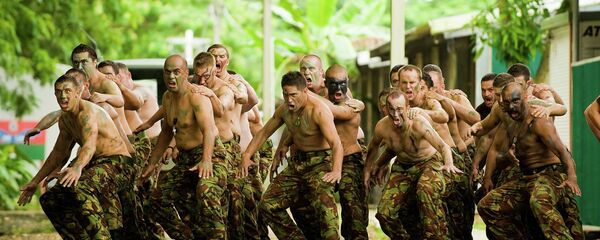 24 February 2015, 18:56 GMT
MOSCOW (Sputnik) — Wellington agreed to extend the deployment of its troops to Iraq within the framework of the joint New Zealand-Australia mission to train the Iraqi army to combat Daesh militants, the press service of the country's Defense Ministry said Monday.
The decision sees the deployment of troops extended until November 2018. The number of troops deployed in Iraq will not change. Approximately 105 New Zealand personnel are currently deployed at Iraq's Camp Taji, which is located around 17 miles north of Baghdad.
New Zealand Defense Minister Gerry Brownlee said that the mission had been a success, adding that it had helped to rid Iraq of Daesh militants.
"So it makes sense to continue doing something that adds value to the likelihood of Iraqi peace and security in the future, and to amend our mission to meet the changing environment in Iraq," he was quoted as saying on the official ministerial website.
The New Zealand-Australia mission has been contributing to the military intervention against Daesh (outlawed in Russia and numerous countries) in Iraq since 2015. According to the country's government, the mission has trained some 7,000 soldiers from the Iraqi security forces since then.
An international coalition of 65 countries has been conducting airstrikes against IS militants in Iraq since 2014.