MOSCOW (Sputnik) —  On June 23 the UK citizens are due to vote on whether the country should stay or leave the European Union with polls predicting a very tight race. According to the poll by market research firm Survation for the Mail, 45 percent of respondents wanted to stay in the 28-member EU, and 42 percent wanted to leave.
"This is Britain's chance of the century for a better future and for prosperity! The almost interminable money sent to the EU without real transparency and without real accountability could be used to modernize Britain instead," Lukas Reimann said.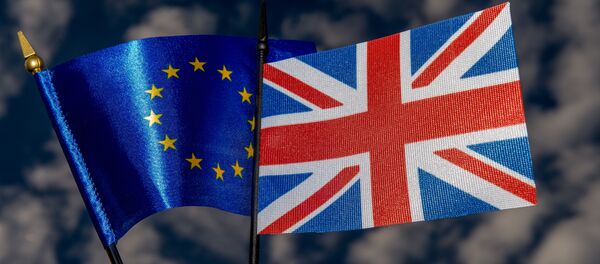 According to the Brexit supporters, annual fee of the UK's membership in the bloc is 20 billion pounds ($29 billion) per year. Opponents of leaving the European Union dispute this number, saying that it ignores the contributions the European Union makes to the United Kingdom, such as grants or payments to farmers. According to the Remain campaign – the net cost of EU membership is about 7 billion pounds ($10.2 billion) per year. 
At the same time, British voters' possible decision to support the United Kingdom leaving the EU will not mean the end of Europe though exact consequences for the bloc and the UK are still hard to predict. 
"Surely a Brexit won't lead to an end of Europe, as some EU-supporters want make us believe," Roland Rino Buchel said.
Buchel added that being a citizen of a non-EU country and a member of Swiss People's Party, which always opposed becoming a member of the European Union, he understands the considerations of Brexit supporters.
"But to make this point clear: For the time being, it is simply impossible to say what the exact consequences of a Brexit will be — be it on the UK, the EU or Switzerland… Whoever pretends the opposite, is just guessing. The short term effects might be different from the long term consequences," the lawmaker stated.
On Sunday, campaigning for the referendum resumed after a three-day hiatus caused by the murder of Jo Cox, a Labour Party lawmaker and ardent pro-European, by a man who allegedly had right-wing nationalist links.
Last week, over 50,000 people have signed a petition calling for cancellation of the national referendum on UK's continued membership in the EU which the national media linked to Cox's murder.