PARIS (Sputnik) – The French leader added that local elections in the Donbass region and the release of other prisoners were issues still to be worked out.
"The Normandy format allowed to achieve some progress [in implementing the Minsk agreements], particularly the release of several people held in captivity," Hollande said.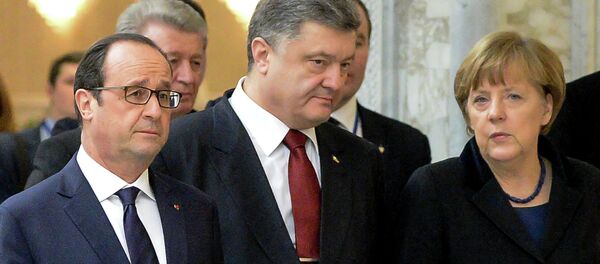 Hollande stressed that he and German Chancellor Angela Merkel were prepared to hold a new meeting within the Normandy format alongside Russian President Vladimir Putin to achieve further progress in implementing the Minsk agreements.
In February 2015, a peace agreement was signed between Ukraine's conflicting sides in the Belarusian capital of Minsk, after talks of the Normandy Four countries, comprising Russia, Germany, Ukraine and France. The deal stipulates a full ceasefire, weapons withdrawal from the line of contact in eastern Ukraine, an all-for-all prisoner exchange and constitutional reforms, which would give a special status to the self-proclaimed Donetsk and Lugansk people's republics.