"We want a consultative referendum on the euro. The euro as it is today does not work. We either have alternative currencies or a 'Euro 2,'" Luigi Di Maio, vice president of the lower house of parliament, was quoted as saying by Reuters.
Despite the fact that Italian law prohibits changing international agreements via referendums, a vote would test public opinion and a victory would send a clear signal to the government.
The Five Star Movement has proposed to introduce two different currencies in Europe, one for the rich northern countries, and another for southern countries.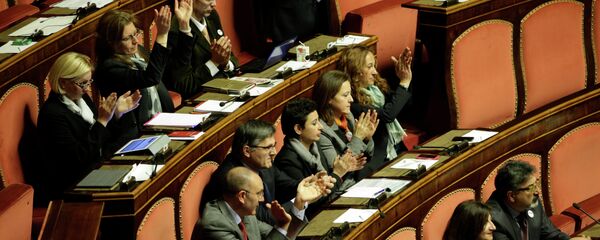 Participating in the eurozone has lowered Italy's borrowing costs on its public debt by opening access to much lower interest rates than the country had before the introduction of euro, according to The Wall Street Journal. At the same time, critics say it has also led to inflation and does not allow country's policymakers to conduct monetary policy which meets Italy's needs.
Recently, the anti-establishment movement won 19 of the 20 mayoral elections in Italy, including the capital Rome.
The results are considered a setback to Prime Minister Matteo Renzi's Democratic Party.
The movement's leader, comedian Beppe Grillo, also wants a referendum on whether Italy should stay in the European Union.
"We are now waiting for the results of the Brexit referendum. The mere fact that a country like Great Britain is holding a referendum on whether to leave the EU signals the failure of the European Union," Di Maio said.
This is not the first time a proposal to withdraw from the eurozone has been made in a European country. Among other examples are Greece, Finland, Germany, and France.