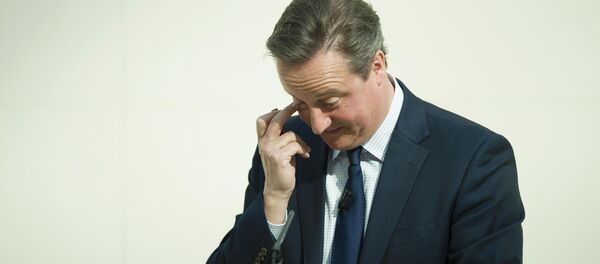 The outcome of the crucial vote will decide the future of the United Kingdom, the European Union and the global economy as a whole.
Britain's Finance Ministry is considering three possible scenarios of Brexit, each of which envisions financial losses, both for the national economy and individual households.
Britain outside the EU
According to the first scenario, Britain cooperates with the EU within the framework of the European Economic Area, a model used by Norway. In this case, 15 years later the country's GDP will be 3.8 percent lower with an annual loss of around 3,000 euros for each family.
The second model envisages bilateral trade agreements, like the ones the EU has with Canada. Under this scenario by 2023 British GDP will be 6.2 percent lower and individual households will lose 5,595 euros a year.
The third model envisions trade relations in line with WTO regulations. This is the most capital-consuming model, which is currently being used by Russia, Brazil and several other countries.
In this event the British GDP will drop by 7.5 percent, with each British family losing 6,766 euros each year.
Brexit will also result in the loss of 46.8 billion euros' worth of taxes and around 600,000 jobs.
In another downside, resigning trade agreements with 27 EU countries may take a whole decade.
Recession? Possible. Catastrophe? No
According to the International Monetary Fund, Brexit would push the British economy into a "technical recession" with a negative impact on EU and global economy.
IMF analysts believe that by staying in the EU Britain will have good chances for an economic rebound with mid-term GDP growth estimated at around 2.2 percent.
Big Business and financiers vote for EU
British Big Business and the financial sector are firmly against Brexit for fear of losing access to the EU market of 500 million people. 
The British Society of Motor Manufacturers and Traders, warned that Brexit will deal a crippling blow to the national auto industry which exports up to 80 percent of manufactured vehicles, 57 percent of which to the EU countries.
Financiers fear that by opting out London would lose its status of a global financial center and that major banks like HSBC, Citi and Deutsche bank would want to transfer part of their operations and staff to the Continent and Asia.

Capital flight
As expectations of Britain's possible exit from the EU increased, financial market players sold a record 84.5 billion euros worth of assets in March and April alone. According to Standard and Poor's, Brexit could seriously undermine the status of the British pound as a global reserve currency which, in turn, would reflect on the country's credit rating.

Brexit scare
Amid the general sense of insecurity, US billionaire George Soros predicted that in the event of Brexit the pound would tumble by a staggering 20 percent, more than it did during the Black Wednesday of 1992 when a 15-percent drop in the British currency earned Soros a huge fortune.
The stock market will also suffer with Deutsche Bank experts expecting a 15-percent drop and warning that some blue chip stocks could drop by 26 percent.

Brexit: pros
What the proponents of Brexit lack in economic argumentation, they try to make up for by political and social motives.
The "Vote Leave" camp which includes, among others, London's ex-Mayor Boris Johnson, complain about European bureaucracy driving up the cost of goods and services in Britain.
Besides, Britain is paying 455 million euros a week to stay in the EU instead of putting this money to better use at home. In 2015 Britain contributed 23 billion euros to the EU budget in exchange for a meager 5.7 billion in farm and social program subsidies.
The supporters of Brexit insist that Britain would be able to sign more beneficial trade deals with non-EU countries and that in the long-term the country's non-participation in the EU would bring better economic rewards.
"Our projections [about the possible downsides of Brexit] are significantly less pessimistic than analysis produced by some other bodies. This is particularly true in comparison with the work of HM Treasury, the gloomy results of which rest on a number of questionable assumptions," Oxford Economics' experts wrote in an analysis released on Thursday.