MOSCOW (Sputnik) — Earlier in the day, member of Germany's Wintershall board Ties Tiessen said that Poland was not interested in blocking the Nord Stream 2 pipeline construction, as Warsaw had already requested annual gas deliveries in the amount of 11 billion cubic meters under the project.
"The Ministry of Energy denies that Poland allegedly made a request for gas delivery through the Nord Stream 2 pipeline. Poland strongly against the construction of the pipeline Nord Stream 2," the ministry said in a statement published on the website.
Poland's Office of Competition and Consumer Protection (UOKiK) has already postponed proceeding of the application for an approval to establish the Nord Stream 2 AG joint venture for the project two times.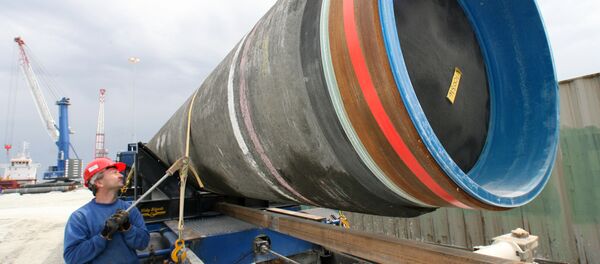 Last week, Wintershall CEO Mario Mehren said he expected to obtain the final regulatory approval from Poland in August, and further buy out its share in the venture.
Russian energy giant Gazprom and its partner companies signed a shareholders agreement on the Nord Stream 2 gas pipeline in September 2015. The prospective shareholders are Gazprom, with 50 percent of shares, Germany's Uniper SE and BASF/Wintershall (10 percent each), Anglo-Dutch Royal Dutch Shell (10 percent), Austria's OMV AG (10 percent) and France's Engie (10 percent).
Nord Stream 2 could provide up to 55 billion cubic meters of direct gas supplies from Russian shores through the Baltic Sea, bypassing Baltic states and Poland, to the German coast.