WASHINGTON (Sputnik) — Democrats, led by civil rights icon Congressman John Lewis, began a sit-in on the House floor close to noon on Wednesday, demanding House Speaker Paul Ryan bring to a vote two pieces of gun control legislation.
"Republican leaders are still blocking us from voting on bills that would help us protect our communities from the tragic cycle of gun violence," Congresswoman Washington state lawmaker Rep. Suzan DelBene stated.
The proposals would expand background checks on individuals purchasing guns and would prevent anyone on the US government's No-Fly List from purchasing a firearm.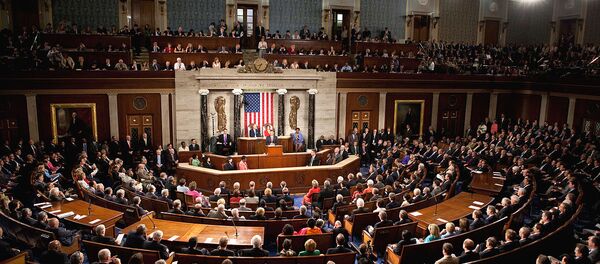 On Wednesday, Ryan called the demonstration a publicity stunt and added that Republicans will not consider any new laws that would undermine the US citizens' constitutional right to own firearms.
Earlier in the day, Republicans shut off the House cameras as the body went into recess, forcing lawmakers and the US public cable network C-SPAN to broadcast the sit-in via social media feeds.
Lawmakers in both parties have called for tougher gun control measures in the wake of the June 12 attack in Orlando, Florida, in which US national Omar Mateen shot and killed 49 people and injured 53 others. Mateen pledged allegiance to Daesh terrorist group.