The attack took place shortly after 3 p.m. local time (13:00 GMT) when the man entered the Kinopolis cinema at the Rhein-Neckar-Zentrum shopping center and opened fire. Nobody was injured in the shooting.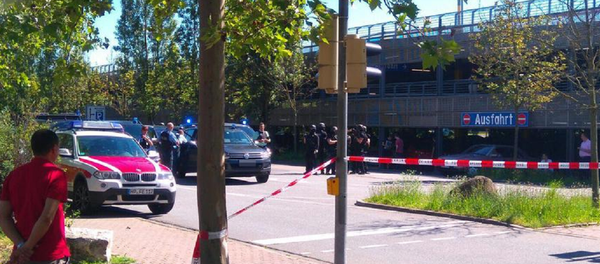 The police are examining the explosive belt and grenades as it is yet unclear whether they are geniune.
Earlier in the day, Darmstadt police spokesman said that the gunman had no Islamist background.
Prosecutor's office and police of the German federal state of Hessen launched an investigation into Thursday's shooting in the town of Viernheim, South Hessen police said in a statement.
"In the late afternoon of June 23, 2016, an unknown man was shot dead by police special units in a cinema in Viernheim. Earlier, he entered the cinema being armed and in a mask. A high level of threat has been declared. Motives as well as background of the attack remain unknown. Prosecutor's office and local criminal police department have launched the investigation," police said in a statement.