"At this point it does seem a little too premature to worry, but it does look like there is a simmering tension which could deepen between the YPG and the Free Syrian Army and that is because they have slightly different objectives," Abrams said.
The FSA is mainly interested in toppling Assad, while the YPG is the Kurdish force operating in Syria and they are mainly interested in expanding their territory for a future Kurdish state, according to the analyst.
"Furthermore, the YPG seems to be more interested, in my view, in taking on Islamic State [Daesh] than the Sunni Arab rebels on the ground and so that is another area of divergence."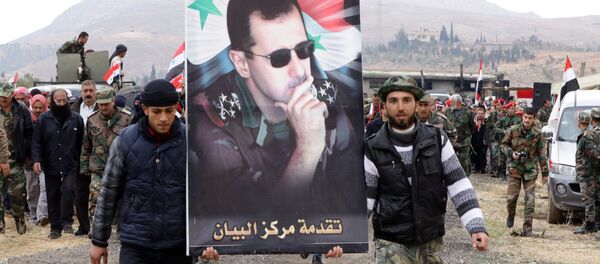 He further said, "I think the United States wanted to work more with the Free Syrian Army to
empower
moderate Sunni Arab groups from the start, but in practice the YPG has been the most successful fighting force against Daesh."
The analyst spoke about the Free Syrian Army and how it has been a huge disappointment fighting the terrorists.
"The US really wanted the FSA to be a moderate secular alternative to Assad and the Islamic State [Daesh] but some people say that the FSA doesn't even really exist. It is so fractured, decentralized and prone to defection to other groups often to Islamic groups that we really can't count on them," Abrams said.
Talking about the conflict between FSA and the YPG, Abrams said that, "It actually mirrors the much broader conflict out of Washington, which is; what is the best way to fight Islamic State [Daesh]?" Abrams said.
The analyst further said that within the past few weeks there have been all sorts of additional pressure on Obama by the US State Department to put more pressure on Assad.
"That would be consistent with the FSA but not the YPG and so far it seems like Obama is holding out in rejecting the recommendation of the State Department including John Kerry's regime change in Syria," Abrams said.
He further spoke about why Daesh was able to thrive in the first place. According to him it is because of the weak opposition and undetermined forces.
"Daesh is the biggest threat in Iraq and Syria and the infighting between groups that are fighting Daesh is very unwelcome," the analyst said.
Both groups are supported by the United States, but they have different goals. The FSA is seeking to oust Syrian President Bashar al-Assad, while the YPG, which has been very successful in fighting Daesh wants to establish control over the areas in the north of the country.
Both groups accuse each other of conspiring with its enemies. The Free Syrian Army's politburo chief noted that without a quick political solution, tensions would escalate between the two.
The FSA has recently hit YPG positions with a TOW missile. In return, the YPG said that it has no intentions to start conflict with the Free Syrian Army, but stressed that: "If they want a war, they will certainly lose it."