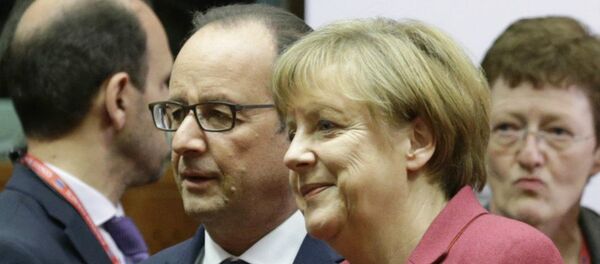 5 February 2015, 19:54 GMT
German Vice-Chancellor Sigmar Gabriel and German Foreign Minister Frank-Walter Steinmeier can be included in the ranks of those "understanding Putin" because of their pro-Russian stance and efforts to maintain dialogue with Moscow.
At the same time, representatives of Christian Democratic Union (CDU) consider these statements as part of a campaign and struggle for power aimed at the creation of a left-wing coalition in Germany.
"This is obsession with power. The main goal is to obtain the post of the Chancellor, and it does not matter with whose help. We see how Steinmeier who 'understands Putin' is already considering the ways of rapprochement with the Left Party. So I am looking forward to the competition, if the SPD would really go in that direction," CDU member Jens Span said.
Earlier, German Foreign Minister Frank-Walter Steinmeier openly denounced NATO's Anaconda 2016 military drills on Russia's doorstep as "warmongering" and "saber-rattling" that could deteriorate the situation on the continent and worsen the EU's relations with Russia, the analyst suggested.
"I don't feel anything but bewilderment when representatives of the CDU / CSU faction become anxious hearing there is no good in mutual attacks and that it is necessary to talk to each other," Thorsten Shafer-Gyumbel, deputy chairman of the SPD said.
Steinmeier's statements provoked criticism among his colleagues in political circles and in the media. For instance, Frankfurter Allgemeine journalist Berthold Kohler called his statement a "gift to Putin."