According to member of the German party Alternative for Germany (AfD) Alexander Gauland, negotiations on the TTIP are likely to come to a standstill.
"Probably, they will fail. I constantly said that we are against TTIP, among others, for geostrategic reasons. Because this is again an agreement that expands up to Russian borders and doesn't ensure the European security architecture. This agreement is another division of the world. In my view, this approach is principally wrong," the politician told Sputnik.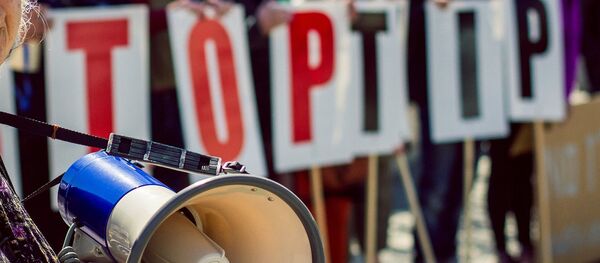 On Thursday, the United Kingdom held a referendum to determine whether or not the country should leave the European Union. According to the final results, 51.9 percent of voters, or 17.4 million people, decided to support Brexit, while about 16.1 million opposed it.
Following the referendum, French politician Djordje Kuzmanovic noted that people said no not only to the current model of the EU, but also to such controversial topics as the Trans-Atlantic Trade and Investment Partnership (TTIP).
"I guess that TTIP will fail by itself […]. Taking into account the reaction of the American side, we can assume that there is also no future for TTIP in the United States," the politician said.
The Transatlantic Trade and Investment Partnership (TTIP), a proposed deregulation trade agreement between the European Union and the United States in secretive negotiations for years, has seen increasing discontent, as representatives of several European countries have openly condemned the deal, while British voters actively contemplate a Brexit solely as a means to avoid the hotly-debated treaty.
The TTIP trade deal has faced sharp criticism from activists and policymakers alike for the secretive nature of its negotiations and for the tremendous power it would potentially give to international corporations.